Looking for half-drilled individual blue colored pearls or blue pearls on temporary strands in any shape? Then you've come to the right place. Find them all here!
We have any kind pearl in blue color in any shape: round blue pearls, blue button pearls, blue rice pearls, nugget pearls, potato pearls, biwa pearl strands, top drilled peanut blue pearls, and also in various sizes.
Is there any specific kind of blue pearl jewelry you are looking for?
You can type "blue" in the Search Box on the right side with product category or price range to find a specific item.
Our in-house workers and designers make jewelry for various stores and exclusive jewelry lines. Why not have them make aunique piece just for you? How about a fine pearl jewelry custom made for you or a friend or even your bridesmaids? You can specify any shape, size, and grade pearls for customization. You can look good in your wedding dress for less!
What are the things to consider when buying blue pearls?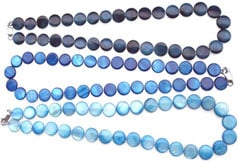 Consider the many shades of blue when making your blue pearl purchase. What shade of blue do you like? Our pearls come in many shades including light blue, baby blue, and navy blue. We have a huge variety of hues and tones to choose from.
Also consider the size of the pearls that you want. Smaller sized pearls look good on girls and young women; bigger ones look better on adult women. These pearls can match almost any attire and they`re suitable for all types of skin. It makes a great gift for yourself or for your sweetheart!
You can order any kind of blue pearls, complete with any one of the pearl clasps from our store for a fine piece of jewelry at the lowest wholesale cost from our store. It will be guaranteed to be treasured forever!