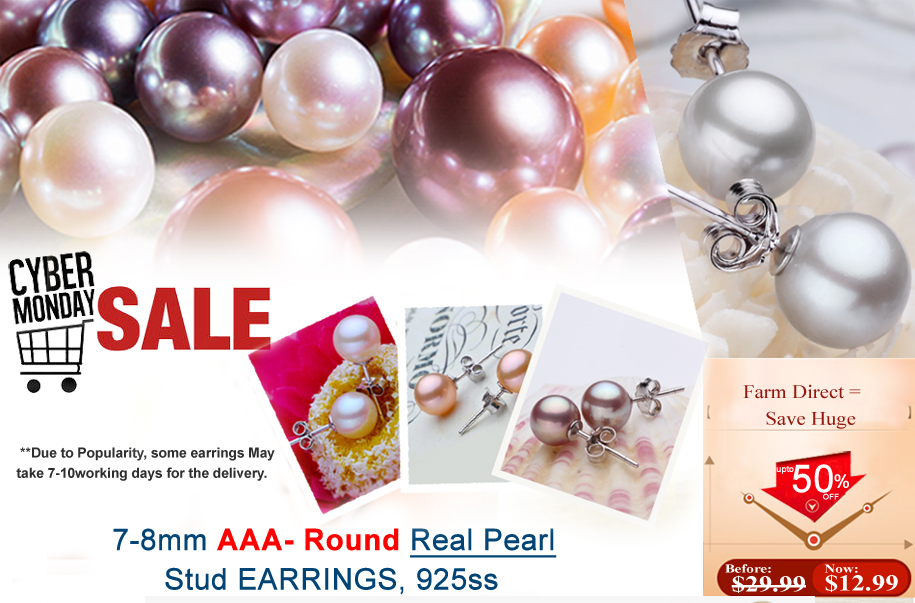 Cyber Week – 14K/ 18K GOLD Pearl Earrings, NECKLACES & Pearl Matching Sets – Sale NOW
All NEW Cyber Week Pearls Sale is Starting NOW! Our High-End ROUND Pearl Earrings and Necklaces Matching Sets are on at 50% off and PLUS more, This best-selling 7-8mm AAA- Round Pearl Earrings in Silver is on sale for only $12.97 in completely ROUND SHAPE, the same kind of HIGH Quality pearls that are being sold in jewelry Stores. Use the coupon to bring the price further down to $11.41. Our 14K or 18K GOLD Pearl Jewelry, i.e., a Pearl Matching Set, starting from $69.99 will not only keep its value as REAL GOLD, but also a family treasure forever.

9-10mm AA Quality Real Round Pearl Necklace in 14K
***We can make Pearl Necklace at Any Length You Need***
1: 16Inch  2: 18Inch   3: 24Inch  4: 36in
A Classical Style that can be Passed on for generations! This hugely DISCOUNTED 9-10mm LARGE ROUND Single Strand Pearl Necklace in 14K GOLD is on sale for $89.99 only, All hand knotted individually. Use the coupon to bring the price further down to $79.99. Guaranteed you will never find a deal like this anywhere else!

Get 12% off Online – Anything Including Sale Items