Pearls in Any Color, Shape, or Size
Thanks to the internet, our pearls now can be cultured from China, but be provided to you directly, at the lowest wholesale prices that were only available before to large corporate store chains that buy in huge quantities. We can leverage the strengths of having a Chinese freshwater pearl farm with the trust that comes with being protected under the umbrella of American consumer protection laws and regulations.
We guarantee that ounce for ounce, you will not be able to find a better deal with any other American company for the same items and the same extras.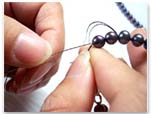 When you buy jewelry from us, you are not just paying for the pearls, you are also paying for the quality of service that comes from dealing with an American company. We will stand behind our products and your business 100%. When you buy from us and realize what you have bought is too long, too short, too dark or too light you can send it back and have it made right again. We want to make sure you will never have to worry about anything when you buy from us.
.
Cut your overhead costs tremendously
Traveling internationally to jewelry shows or even domestically these days is costly. You have got to deal with airline tickets, hotel expenses, travel expenses, etc. Plus you lose valuable time away from your company. Not to mention the fact that these pearl farms cannot offer the same level of quality customer service to you that we can.
With us there are no travel costs. Instead we send you the pearls directly from the pearl farms so you can cut your costs. This is why no U.S. company can compete with us on price.

No More Massive Inventory or Hassling with Jewelry Shows
As your partner, we will eliminate the need to have to buy in ridiculous quantities to get pearls from our farm. Just let us know what you want and the quantity you need, and our skilled professional craftsman will make your jewelry to the highest standards. Average waiting times are seven to ten days for custom necklaces/bracelets or items made with components on hand and a month for anything that requires us to make a custom mold.