Real Pearls Jewelry w/ 14K Yellow or White Gold & 925 Sterling Silver
Custom-Made to Your Specified Color, Size & Design Specifically for you

Custom Jewelry – wear the jewelry custom made only for YOU

For the classical pearl necklace, you will never have to wear the jewelry that does not fit your size, length or skin color any more. Specify your requirement in the comment field when you are checking out. You will get the jewelry custom made only for you without any customization fee.
Want to be unique? You can have any kind of jewelry made specifically for you! And will never run into another person who wears the same jewelry as yours. Now you too can have the same power as a jewelry store, and be your own jewelry designer, without the ridiculous markup and high labor costs you would have to pay to get anything done in another jewelry store.

Since you are the designer, we will stand behind your jewelry every bit as much as we stand behind ours. With a FREE 6 month warranty, you will be able to have a real sense of peace of mind with your purchases. If anything goes wrong we will be here to make it right. Our 6 month FREE warranty covers all of the following:
1) Any repairs to your items.
No matter who did it or how damaged it is, just send it back to us and we will repair it, free. All you need to do is to pay for shipping your item to our factory and back to you.

2) Any clasp changes.
If you find another clasp you want or if you would like to change your necklace from single row to multi-strand – just let us know. All you need to do is to pay for the price difference (if any) between for the clasps.

3) Any resizing or restringing.
If you would like to change a bigger or smaller pearls for your jewelry, just send it back to us. As always, the labor is free! All you need to do is to pay for the extra pearls or other beads we add on, which means all shortening is free.

Please include your invoice number or the name you used when you placed the order, along with the item and a note or contact information to our USA office:
C.D. Plus Inc
9947 Cleary Str.
Santee, CA 92071
USA
Whatever the case, we will take care of everything. Please make sure to send us an email at support@orientalpearls.net first though, so we`ll know exactly what to do with your item once it arrives.
There is no excuse left for you not loving your jewelry forever.
We will make whatever you want, in whatever color, style, and out of whatever metals you need. So you can always get the jewelry that suits your needs.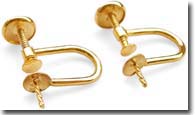 Great value – Want to design a treasure that will keep its value and be a family treasure forever? We can make that happen! Custom made 14k, 18k or 24k white or yellow gold jewelry with pearls or diamonds gives you the ability to design a truly one of a kind treasure.
What works well with gold:
Gold jewelry is easy enough to match to almost any attire. With shimmering white gold going great with darker colors and bright yellow gold being great with lighter ones. Choose whichever you`d like the most and we can make your designs for you. We can make: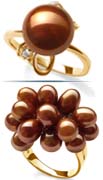 .
Gold clasps, settings or findings for pendants, rings and earrings.
Gold chains or beads for necklaces.
Finished gold jewelry made using any of our clasps, beads, settings or findings.
Custom gold jewelry designs
*Custom designs require a picture to be sent by email or a physical sample of that design be sent to our factory for a mold to be made.
**Custom orders take at least an approximate seven to ten business days to assemble, additional delays may apply depending on the complexity of your design.
*** Email support@orientalpearls.net for a detailed price and time quote on your design.
From a one hundred inch long super-versatile necklace that you can wear on every occasion to a five inch long bracelet for your child. If we don`t have it, we can make it just for you.

Ogling at the latest piece of designer jewelry in a store or some catalog but don`t want to pay the artificially inflated prices? Send us some high resolution pictures and a detailed description and we`ll make it for you at prices that may even be lower than what the stores were paying for them. How can we do that? because we wholesale any kind of silver jewelry as well.
After we finish your next big hit we`ll send you a photo for final approval before we send it out to you. Don`t worry though, if anything goes wrong our warranty will fix it.
Other Customization Services we have:
1. Drill your pearls to different sized holes.
2. Customized packaging with you or your family's OWN pictures for wish or love pearl gift kits
Love pearl and wish pearls are truly unique piece of jewelry for gifts. Each gift set comes with a freshwater mussel that has a real pearl inside of it. Open it up and then place the pearl into your very own custom necklace.
But this year, for just an extra $10.00 we can use your own pictures or labels, be it for your family or for your company, to customize the entire gift box from box to the set in whichever way you want it. And make this a truly memorable Christmas gift. Send in your custom design today.
3. Have 18k yellow gold plated on any kind of your silver jewelry.
4. Have your jewelry engraved!
Request a quote
There are two ways to request a quote and check availability on your next piece of custom jewelry. The fastest method is via our Live Chat. Sunday through Thursday, between the hours of 3:00 P.M. to 6:00 A.M. Pacific Standard time the chat is staffed by our offices overseas, where all jewelery assembly is performed. They`re typically able to send someone to check and can get you back an immediate response on pricing and availability for your custom item(s). Alternatively you`re welcome to send an email at any time to support[at]orientalpearls.net with all of the details regarding your custom piece and we`ll be able to have a response back to you usually by the next business day.
Please understand that depending on what you request we may require photographs or a physical sample to complete assembly. Please be as descriptive as possible when requesting a quote so we can make your jewelry dreams into reality without any misunderstanding.
Payment Methods for Special Ordered Pieces
Place the order on line directly(if you are just modifying an existing item)
Place it through Paypal or Google Checkout, or Place it over the phone by calling 619-405-3938 (after you have already gotten your price quote) or send us a check or money order (after receiving your price quote, USA customers only).
Freshwater pearl jewelry or any kind of silver jewelry – From your mind to reality!
Not only for your pearl jewelry, we also have sterling silver manufacturers working for us directly. They can make any kind of silver jewelry your heart desires.
So do not let those ideas sit around in your head forever. Call us today and turn your dreams into reality.