Buy Pearls Direct from a USA Freshwater Pearls & Pearl Jewelry Wholesaler
Who is Oriental Pearls?
Oriental Pearls is a division of C. D. Plus Inc. – a business incorporated in the eastern San Diego County, California, USA, a licensed wholesaler and retailer in the State of California for freshwater pearls
and pearl jewelry, and also a member of the Better Business Bureau (BBB) of good standing, with A+ rating and have been in business since 2002 when we brought our pearl farms online with any kind of pearls at any quantity you need.
We do not have a fancy website or glowing reviews as other internet retailers. However, with our investment in pearl farms and partnerships with all major pearl farms, we can provide you with the highest valued pearls at the best wholesale prices, in any shape, size, color, and grade of freshwater pearls, albeit a loose pearl, a strand, or a finished piece of pearl jewelry. As an American company and a member of BBB, we are governed by American Consumer protection laws and business regulations that keep you safe from false advertising and unsafe products. We strive to guarantee your complete satisfaction, by receiving any returns for 90 days.
Our manufacturing unit has rigorous quality control standards and inspections are conducted daily. We scrutinize every ounce of any material we buy and continue to monitor its progression every step of the way from being selected for use to final completion of any given product. This gives us an advantage over other American based companies in that we have complete control over our supply chain and are also able to purchase raw materials in bulk quantities. This means our prices are much lower than others as we are able to cut out all of the middlemen cost.
So you won't have to worry about paying ten different people's travel expenses, transportation costs or margins as you would at your average brick and mortar jewelry store. Yet at the same time you'll still be absolutely certain that you`ll only get the high quality jewelry that we advertise. Unlike companies based solely in other nations we`re subject to strict American business laws and regulations. So when we say we`re selling you pure 925 sterling silver, solid 14K gold, or solid nacre freshwater pearls, we have to stand by that, it's the law.
Our company's and employees' mission statement is: "Do good. Feel good." It might not seem important to you, but that is the principle for us not only with our customers and suppliers, but also applies among ourselves and to our competitors as well. Maybe that is the reason many of our customers say they have heard good things about us from our competitors, even though we are their best kept secret on the internet for getting their pearls to make high-end jewelry or buy jewelry gifts for friends and families. Golly! But thank you!
What sets OrientalPearls.net apart from the competition?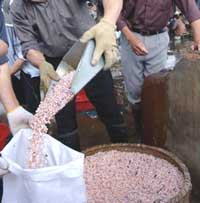 Because we are a true farm-to-consumer direct pearl and pearl jewelry supplier, we can offer the highest quality premium pearls. You pay no middleman's profit and incur no expensive traveling costs. We offer the prices that are lower than what you would get when actually buying jewelry and accessories from our manufacturor.
Regular customers are counting on us. Another reason is that most of our customers are jewelers or store owners, and they buy on a regular basis. Unlike other web sites that sell pearl jewelry to their retail customers with thin nacre and low standards on a one-time basis, all of our pearls have very thick nacre to meet international jewelry standards. Because our customers are all long-term customers who depend on us to provide them with the highest quality products so that their customers wouldn't receive anything less.
Because of our direct investment, and our partners' well established business connections, Oriental Pearls.net has the capability of acquiring all of our pearl jewelry and pearls, not only directly from where they are produced, but also at the lowest cost. Therefore, after assembled and hand-crafted by highly skilled craftsmen, we can provide you with extensive lines of high quality wholesale freshwater pearl jewelry at the lowest cost.
We obtain cultured pearls directly from pearl farmers immediately after they are harvested. Those pearls are then sorted one by one, by size, shape, color, and luster, and carefully and expertly drilled. Finally, our jewelry workers look for almost exact matches to string together for the most exquisite jewelry pieces possible.
The Only 4-Part Protection Program Guaranteed by the Wholesaler With No Mark-up Price
Lowest Price Guarantee with 100% price protection and 10% match program
90-day Complete Customer Satisfaction Guarantee
6 months Free Warranty Protection for your peace of mind
Your Online Security and Privacy Guarantee
In the past, Oriental Pearls were sold directly to wholesalers and importers, who would mark up the prices for sale to retailers. Retailers never had an opportunity to get the lowest possible prices because of their relatively small volumes. They still had to pay expensive fees to recover all their costs, which had to be shifted over to their customers in order to make a profit.
Buying pearls directly from Oriental Pearls.net through the World wide web eliminates all these extra costs. Finally high quality jewelry, which is normally high priced is affordable for all those who appreciate it. No middleman, no added cost, no overhead, no pressure from salespersons. Rather, it's a simple and safe way to buy quality pearls and pearl jewelry for less.
Oriental Pearls.net guarantees your total satisfaction with our products and price. We not only have a 90 day risk-free money back guarantee, but also a 200% price appraisal guarantee on all products that we sell. If for any reason, you are not happy with your purchase, just send it back, and you will get a refund immediately. No pressure, no hassle, and no questions asked.