The Pearl Grading System
From A to Highest Gem Quality Pearls – in Plain English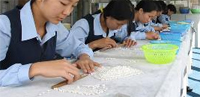 Sure we could impress you with a lot of jargon or try to put up all kinds of certification to lull you into a false sense of security, but here are the facts. There is no industry standard for pearl grading. Anyone can claim they have the finest pearls and their grading system is the most authoritative. However, consumers often found the places they were looking for guidance are actually owned by the same people who are selling their pearls and participated by their sisters` or brothers` websites instead.
So with all this lengthy exposition taken care of, let's get to the heart of this.
How Pearls are Graded?
This gem quality graded pearls are the highest graded freshwater pearls that are truly round. They are only typically used as loose individual pearls for keepsake or used as centerpieces for pendants, rings or as the center pearl in an elegant necklace. These pearls have not only an amazing lustrous sparkle, but also have amazing roundness that can even be seen in its measurements. They are also free from any spots, markings, flaws, blemishes or imperfections whatsoever. And they can only be found in huge pearl farms with millions of pearls are cultivated and harvested to be sort through.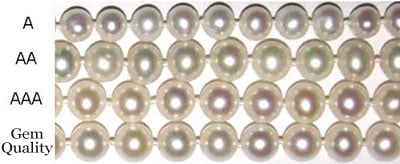 Because they are rare, pearls in this category are very expensive and typically only available at smaller sizes. If for some reason you need a larger pearl in this category, you`ll need to give us plenty of advanced notice; These pearls don`t come around very often so we'll have to basically reserve you a spot and tell you when one happens to make it out of one of our oysters if you need it large enough. This is because since making larger pearls takes more time, and since pearls are grown and not manufactured that means the more time spent the more likely something is to go wrong.[/vc_column_text][/vc_column][/vc_row][vc_row][vc_column][vc_column_text]
Grade

Description

Grade A Pearls

These are pearls that typically have highly irregular shapes or are semi-round if they are A grade round pearls. They usually are littered with small spots, markings or imperfections visible on their surface. These however may not be easy to see at a distance when worn. They usually don`t have the best luster but some A grade pearls can still look good. Some people also like the look of these pearls because they feel the imperfections make them look more "natural" since there`ll be no mistaking these pearls for glass or plastic imitations.

We typically do not carry A grade pearls in our store`s regular inventory. Even for pearl strands that we are selling for beading purpose, we are still using at least AA graded pearls, This is because the low level of pearl quality typically means it`s not desired, and therefore we only sell them as special orders. Just so that there will be no disappointment when customers order on line directly.

Grade AA Pearls

AA graded round pearls are round or near round shape. They are 80% good luster and relatively clean almost without significant or noticeable imperfections, less than 20% a bit lower. There may be some flaws or slight blemishes, but these are few and typically only revealed upon close inspection.

Grade AA+ Pearls

High luster pearls with clean surface over 90% in a round or near round shape. There are hardly any significant or noticeable imperfections and they are inconspicuous even upon close inspection. These pearls are a great value since they represent an amazing cross section of price and quality compared to the higher grades.

Grade AAA Pearls

Excellent lusterous pearls with a very round shape. They appear almost perfectly round and have a surface that`s 95% free of any blemishes, spots or imperfection. These are the highest standard grade of pearls that you`ll be able to readily buy on loose strands, necklaces or bracelets and also the highest grade in the A grading standard for pearls.

Gem Graded Pearls – Under Various Fancy Names

The A grading standard is actually A-AAA only, after AAA grade, it will be the fancy name that each store has for its own best pearls , as you probably already have seen on the internet. The reason for this category is because our high end jewelers also request this category of pearls, which are the absolute best so that they can create it as their own trade mark or brand name. They want to make sure they are getting the pearls that are even better than AAA grade and they want us to put them down in writings,as they have to be as perfect as possible.
[/vc_column_text][/vc_column][/vc_row][vc_row][vc_column][vc_column_text]
Pearl Grading in Plain English
The highest quality of pearls from Oriental Pearls – those truly round we call Gem Quality pearls are comparable with world famous brands such as Mikimoto. Freshwater pearls can make a woman`s day when presented as a special gift.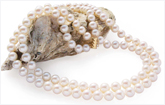 Although GIA still has yet to step in and create any kind of standard, most online consumers are smart shoppers. They compare prices across many different sites, look at pictures and often do extensive independent research including comparing the same items in their local jewelry stores. After all, it is the quality of pearls that everybody can see with their own eyes, not by labels or fancy names.
The highest quality of pearls from Oriental Pearls – those truly round we call Gem Quality pearls are comparable with world famous brands such as Mikimoto, or Cartier or other fancier names – as from an unsolicited email by Theresa, one of our customers. We can`t just tell you to trust us, but we can show you what others have said and we can help you out by giving you the description of the quality of pearls so you`ll know exactly what you are getting.
Why Pearl Grading?
Oriental Pearls offers pearls in a variety of grades. From the highest gem quality pearls to fine but affordable pearls to low graded pearls for pharmaceutical companies…We wholesale freshwater pearls, pearl jewelry & pearl jewelry setting in 14k, 18k gold and silver.
We don't want to join the ranks of retailers on the internet that have their tall tales of world renowned pearls or give their own special names to the pearls so they can jack up the price well beyond what it should be. We put these pearls grading here for the sole purpose of letting you know what you will be getting, which is why sometimes you see AAA- or AA+ graded which is only meant to serve this purpose better.
Not all of our pearls will be flawless, not all will be perfectly round, and not all will have that same sparkle and luster. Why should they though? Not all of our pearls are the finest in the world, and we, nor anyone else should try and pretend that. We`re Oriental Pearls and we want you to trust us because we can provide you with the best value for the same quality pearls that you can get, just as a jeweler would, instead of paying anything extra, be it a brand name or fancy madona label.
Although pearls are definitely making a huge comeback pearl jewelry is undergoing a revolution. As times have changed the designs are becoming much more unique and contemporary, which is often why jewelry designers may request lower grade pearls or different shapes like baroque pearls, ovals, or cross pearls to show how inventive and unique their jewelry is.
At Oriental Pearls we supply a wide range of pearls in a variety of grades. From the highest gem quality pearls that are often bought from our pearl farms and sold under brand names, to fine but affordable pearls that may secretly have woven their way into your local jewelers newest design, and even some high quality unique pearls they may have found their home in a new design at your local department store, to low graded pearls for pharmaceutical companies. You can find pearls from us that cost $5 to $5,000,it`s all about what you want and what your budget is.
The world`s finest freshwater, and even a great many saltwater are all cultivated from pearl farms in China, and you never know, they may have come from ours. The next time you're at a jewelery or department store, ask them where they get their pearls. Unless they`re Tahitian or South Seas, they`ll most likely say China if they say anything at all. So if you want to try for the same quality of pearls at a fraction of the price, you need to go to the source. To quote another customer, Mrs. Jo Ann Pennock: "The pinkish luster on the 3-strand actually rivals a very pricey Mikimoto one that I own."
So why aren`t you running the show if you can make pearls that are so high quality you might ask?
Culturing and farming pearls is what we do. We make pearls and also make pearl jewelry. We're not expert in marketing; We don't spend billions of dollars on advertising campaigns in newspapers or magazines and doing brand name establishment. We`re here only because the magic of the internet makes this possible, otherwise we will still be cultivating pearls and selling to wholesalers. We love pearls, and think that everyone else who does should have a chance at actually affording some too.
At Oriental Pearls we stand behind the quality with a 90 day, 100% satisfaction money back guarantee. So we encourage you to try buying a strand of pearls from us, and comparing it to some other retailer on or off of the internet, and compare with the same graded, same sized pearls side-by-side, and see the difference for yourself, with their prices as well.
Not only you will be surprised to see how much more shinier our pearls can be under the same stores` lights, you will be also be very glad to find out that one strand of ours will often cost less than a lower grade at theirs. How could we say that? Because we are selling to them…