Buy Pearls Jewelry Direct from Pearl Farms at Wholesale Cost w/Highest Value

Located in the outskirt of the America Fines City, San Diego, California, USA, we brought our pearl farms online in 2002 by selling directly also. Over the years, we have been told by millions of our customers that our jewelry makes the best gifts, with real pearls at HUGE Discounts at the Highest Value perceived by others as they can often turn around and sell our pearl necklaces for 2.5 to 8 times more than what they paid. If you own a store and have a seller's permit number, you may sign up here for a long term business relationship.
Drop Pearl Pendant 14K ($79.99)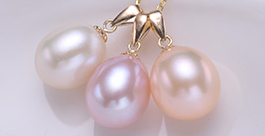 Jackie O's Famous Necklace($179.99)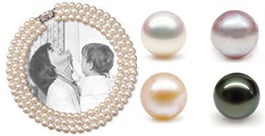 Round Pearl Earrings($4.99+)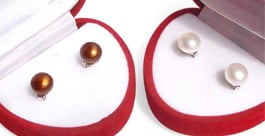 Not only because high-quality freshwater pearls value has been increasing while others are decreasing over the years, but also when you buy pearls from OrientalPearls.net, an American corporation, you will get:
Wholesale pearls jewelry direct from our own pearl farms
Real pearls jewelry @ 90% off, with our own in-house manufacturing unit to make any kind of pearl jewelry to your specifications; (as we did for jewelers world-wide even before we brought our pearl farms online), with a 6-Month FREE Warranty.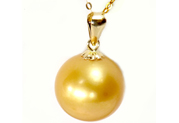 10-15mm Huge Golden Pearls in 18K
Sale Price: $29.99 & up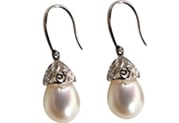 Filigree Dangle 7-8mm Drop Pearls
Sale Price: 14.97&up

4-Part Guarantee program ensures your complete satisfaction, or you don't pay a dime, for 90 days!
A Free Pearl Gift with any first-time order. Please write "orientalpearls.net" in the comment field when you check out and we will include it in your package.
We supply high quality real wholesale pearls jewelry and pearl settings in 14k gold or pure 925 sterling silver to jewelry designers and jewelry stores worldwide, the kind of jewelry that will keep your money's value and be a family treasure and last forever, not those cheap ones that last only for weeks or even days.
No matter what you are interested in, be it finished wholesale pearls jewelry or unfinished individual pearls or loose strands, we have the world's largest selections of loose pearls and jewelry, from unprocessed natural pearls sold by ounces, to any colored pearls you want for your jewelry. Our customization capability makes your selections from our store having NO limit!