Pearls Jewelry are Certified with a 6-Month Warranty from Oriental Pearls
When you buy a pearl jewelry, a Certificate of authenticity for the pearls and metal clasps is provided for free with our satisfaction guarantee!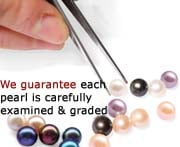 A certificate of authenticity will be provided free with your order. This includes information for pearls, clasp types, and gold content. We stand behind of all products that we provide, which are backed by our record from the Better Business Bureau.
The certificate can become an important document in the event of loss, damage, or theft. The appraisal is valid and is considered to be adequate documentation to replace lost items with products of equal quality.
Although our Pearl Farm Directed Pearls allows you pay for only a fraction of the retail price, this certificate will help you to establish comparable pearl jewelry with similar sizes, shapes, colors, pearl quality, and material for metal clasps listed on the certificate for value determination.
Shopping for certified pearls and jewelry allows you to make an informed choice about your purchases along with a solid peace of mind.

Free 6-Month Warranty
Our pearl farms supply the highest grade freshwater pearls that are being sold under various brand names all over the world, from high end department stores to local jewelry shops. Still, these stores are not in the business of cultivating and producing pearls and neither will they manufacture pearl jewelry.
But we do! Therefore we can provide you with the newest harvested pearls and are able to custom design them for you or any store owner/retailer with our exclusive line of designer items, backed by a free, 6-month warranty.

If there is anything that needs to be resized or repaired or any length to be changed, please send the products back to us and we will repair them for FREE.
As a guarantee of our product quality, we offer a 6-month free repair for all of our made-to-order finished pearl jewelry.