Free Certificate, Free Gift Boxes, Free Pouches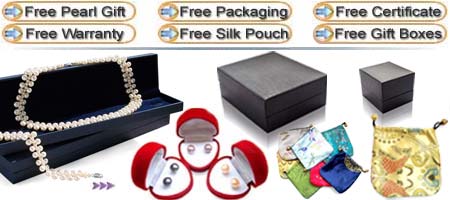 Oriental Pearls gives free gifts in every order of $75 or more as a special way of saying "Thank you" for shopping with us.
The specific gift you get will depend on your purchase amount. This can range from pearl pendants, stud earrings, loose pearls, or even strands of them for the more expensive order. All gifts will be made with our genuine pearls, coral beads, jade beads, turquoise, and our other certified materials. Act now, as this is a limited time offer that could end at any minute.

All of our free gifts are chosen from a special free gift inventory we maintain. No item outside of that inventory is allowed to be sent as a free gift for an order. While we may offer you a choice of several free gifts if the free gift selected is out of stock we will include another one instead. We may also give out free gifts under other circumstances as well determined on a case by case basis. If your order already qualifies for a free gift then either two gifts or one upgraded gift will be sent with your order. If for any reason a free gift is not included in an order of $75 or more then please inform us and we will include an extra free gift in your next order. Free gifts however cannot be individually mailed out by themselves under any circumstances.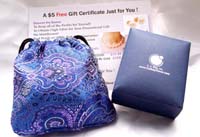 Each piece of jewelry you buy at Oriental Pearls will come with a certificate of authenticity guaranteeing that we stand behind the items you just bought and their quality. All retail orders by default are provided with a single certificate of authenticity containing a summary of the entire order. However if for any reason you need a single individual certificate of authenticity for each item included in your order then please specify this with your order and we will do our best to prepare some for you. Please note that providing more than one certificate is done only as an extra courtesy and extra fees may apply depending on how many you need. If for any reason you need extra certificates of authenticity for a previous order please let us know and they will be sent with your next order from us. If you had specified explicitly to us that you needed certificates of authenticity before 12:00 P.M. on the day we shipped your order but we mistakenly did not include them then they will be considered a backorder and mailed out to you as soon as possible similar to any backordered items. If you need additional certificates of authenticity above a one on one basis for items you have purchased then they must be purchased as a special order.
Not only that but all retail orders placed with us will receive free gift packaging on a one on one basis, for any pieces of finished jewelry purchased. (Earrings under $8, necklaces under $20, oysters, cans, jewelry making supplies, chains, cages and other incomplete pieces do not apply) We can provide silk or velvet pouches or jewelry boxes in various colors and sizes. Extra fees may apply if we are asked to upgrade gift packaging depending on selection and availability. If you require formal gift wrapping with paper and decorative ribbons or bows of any type and/or extra gift card then this is not a standard service, so it must be requested and is subject to extra fees as well as additional delays. For this reason this service cannot be provided to rushed orders that must be shipped on the same or next day. If you require a specific color of gift box or pouch then please specify this with your order as otherwise it will be chosen at random. Gift packaging is only able to be provided on a one on one basis so if any extra pouches or boxes are required then they must be purchased as a special order.
If you would like to have specific colored gift box for your jewelry, you can write it down in the special comment field while checking out. We will make every effort to meet your demand according to our inventory here.
If you do not want anyone to know where you got your pearls, just let us know and we can send your items in unmarked boxes, silk pouches (subject to availability) with no receipt or certificate of authenticity.
At Oriental Pearls we guarantee the quality of our fine pearl jewelry with a no-risk 90-day satisfaction guarantee (please note that shipping fees are non-refundable once an order has been sent.) To assure you of our commitment to the highest standards we joined the Better Business Bureau and have a spotless record with them to date. We also have our website tested daily by a third party service to check for any security holes or problems. Therefore we can guarantee a safe and secure purchase when you shop with us.[/vc_column_text][/vc_column][/vc_row]