How to measure ring sizes or how to convert UK to US size?

Pearl rings can be extremely personal. They can be used for promise rings, engagement rings, or just to say "I love you!". The amazing variety available in settings combined with the thousands of different pearls you can select from make a pearl ring one of the most unique pieces of jewelry around.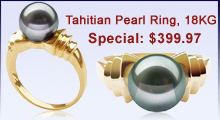 Sizing can be confusing when it comes to pearl rings, as US, UK and European sizes differ. The best option is to visit a jeweler and have them tell you what size you need by measuring your finger. Then simply forward that size to us along with what country you are in, and we can ensure that the fit is correct.
Alternately, you can use a piece of string or a slim band of paper to measure your finger. Simply wrap the string or paper around your finger at the base, mark the point at which overlap begins, then lay your string or paper flat and measure with a ruler marked in millimeters(mm). This will give you the proper circumference of the inside of the ring.
Determine your ring size
The chart below show the different sizes and how they compare. All you have to worry about is how many mm the circumference of the ring needs to be to fit around your finger. We can take care of the rest!
As you can see, a size '6' ring in the US matches a size 'L' ring in the UK. If you already own a perfectly fitting ring and know its size, just forward that information!

USA

Europe

Inner
Circumference in mm

UK

37.3

A

1

39.1

B

1.5

0.15

40.4

C

2

1.5

41.7

D

2.5

2.76

42.9

E

3

4.14

44.2

F

3.5

5.40

45.5

G

4

6.68

46.8

H

4.5

7.97

48.0

I

5

9.32

49.3

J

5.5

10.58

50.6

K

6

11.87

51.9

L

6.5

13.16

53.1

M

7

14.51

54.4

N

7.5

15.76

55.7

O

8

17.15

57.0

P

8.5

18.40

58.3

Q

9

19.66

59.5

R

9.5

20.98

60.8

S

10

22.33

62.1

T

10.5

23.59

63.4

U

11

24.97

64.6

V

11.5

26.22

65.9

W

12

27.51

67.2

X

12.5

28.77

68.5

Z

13

30.15

69.7

Z+1

13.5

31.47

71.0

Z+2

14

32.6

72.3

Z+3

Want to get special promotion jewelry in the future? Simply enter your name and email address in the form on the right side of this page, you will not only get special sales notification, but also get this free butterfly earrings with your order. All you need to do is to write in the comment field "Free Earrings ". Then we will automatically include the pearl earrings, made of REAL pearls.
Make your own rings with your preference color and size
We keep all ring sizes from 5.5 to 8 in stock. If you need a larger or smaller size, we can quickly create one for you in the desired style and have it shipped to you in about two weeks! All you have to do is choose your style from our extensive pearl ring selections and drop us an email at support@orientalpearls.net to let us know your size and the product number.
You can also custom make an adjustable rings, which are perfect for both younger wearers who are still growing and older women who might have swollen knuckles and find sizing a ring to be difficult.

Still unsure about your finger size? Give us a call at (619)405-2879, our staff will be more than happy to help you decide on the perfect pearl ring for you!