Shell Pearls/Mother of Pearls
Why Pay Retail When you can Get @ Low Wholesale?

Looking for huge, dazzlingly perfect pearls that not only look gorgeous but won't break the bank? Look no further than our Shell pearls. We have them in sizes ranging from
6mm
all the way
to 16mm
and in colors such as white, pink, peacock, black, grey, champagne brown to
green, grey, blue
and
copper, on loose temperary strands.
Also
drilled in larger hole sizes
from
2mm, 2.5mm to 3mm or larger.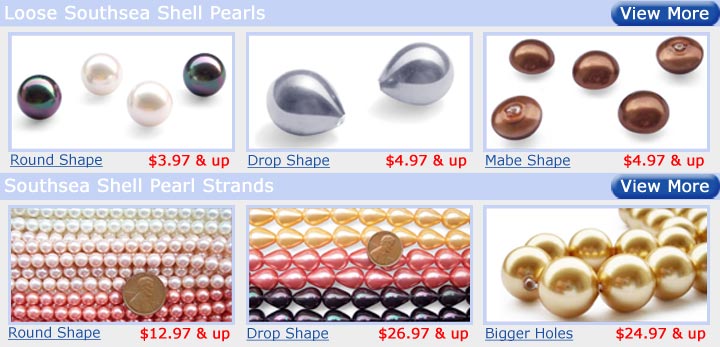 What is a South Sea Shell Pearl?
Shell pearls, which are marketed under many brand names, are a pearling industry term for simulated, or replica pearls made from mother of pearl. In the case of our South Sea Shell pearls, they're shell pearls specifically made to simulate South Seas cultured pearls. They're made in a process similar to how pearls are cultured, although these pearls are made in a factory rather than grown inside an oyster or mussel. They're considered to be the best quality replicas you can get as they're made out of the same material that cultured pearls are.
You can find simulated pearls made from glass, or plastic as well but while they are cheaper they can't compare quality wise to shell pearls. For instance, you won't usually find glass or plastic beads that have the same beautiful multi-colored hues you'll see with some of our shell pearls.
Want to know more? Find out just exactly what the differences are between South Seas Cultured pearls and our South Sea Shell pearls by clicking here.
We use the latest in pearl production technology to ensure the durability of our shell pearls. Each shell pearl should keep its shine and color for many years to come, unaffected by sweat, perfume, and other substances that would normally damage cultured pearls. So you can be sure when you buy shell pearl that you're making an investment in jewelry that will last and not be as fickle as cultured pearls are. As well, because shell pearls are man made we can offer them in a whole new world of colors, shapes and sizes you might not easily find (if at all) in any cultured pearls.
Custom colors, sizes and shapes can be specially ordered. Currently we have the following colors readily available:
White
Grey
Golden yellow
Tahitian Black (Straight Black)
Pink (white with vivid pink overtones and only 12mm and 14mm)
Black (A peacock black with iridescent green/blue/purple overtones)
Light pink (Almost white with an pinkish overtone)
If you don't see what you want on our website you can special order any sort of necklace, bracelet or other piece of pearl jewelry you'd like with our shell pearls. Just let us know the shape, size, and color of pearl you want, as well as (if applicable) the necklace/bracelet length, setting, or choice of pearl clasp that you'd like and we can get a price back to you usually within 1-2 business days.