Loose – Single Pearl or Pearl Strands @ Wholesale
Any Pearls Beads – Freshwater Pearl Farm Direct
With our own pearl farms, we have got 2 departments, including Loose Pearl Strands and Single Pearl for you to choose from with 4300 choices+.
Potato Pearl Strand($15.99)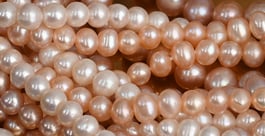 Pearls For Earrings($6.99)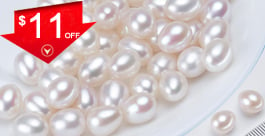 Bead-Nucleated Pearls($109.99)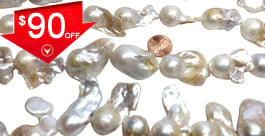 If you know the shape of the pearls you are looking for, just go to the Pearl Strands or Single Pearl Department, you will find All Color, All Sized pearls from 1mm, 2mm seed pearl all the way to 35mm huge sized baroque pearls! Drilled larger holes. We can also custom make and Drilled to your specification of any hole sizes you need, at any quantities you want. Here are just a few samples.

9-10mm TRUELY Round Pearl Studs Earrings in Silver – $19.97+/pair only
If you would like to make your own unique jewelry with pearls in various shapes, here are some deals:
Loose Pearl Beads in All Colors, Sizes and Shapes at Wholesale
Need real loose pearl beads to make jewelry? With our own freshwater pearl farms, you can get freshwater pearl beads in all sizes and shapes, in any color, from cranberry pearls, to green, yellow, champagne, dark colored pearls, or black pearls. You can get pearls the size of tiny seed pearls of a mere 1mm to large 25-35mm pearls, as well as pre-drilled pearls with large holes. You can choose the size of the hole and drill in most any way you like, from top drilled to center drilled, and side drilled, etc. What kind of loose freshwater pearl beads do we have?

You can also buy loose pearls or individual pearls by single piece, by oz, or by hank. You can also buy the best imitation pearls, south sea shell pearls, along with other semi-gem stones on strands from jade beads, genuine coral beads to turquoise and more!

We can also drill your loose pearl beads to any hole sizes you specify! 0.7mm is for regular sized holes that are widely used for all loose pearl beads. If you need a bigger hole such as when using leather ropes to lace through the holes of your custom jewelry, please let us know in advance and give us the exact size in millimeters, such as 1.5mm, 2mm, 2.3mm, 2.5mm or even 3mm for stringing leather cords or ribbons.


Because of inventory changes due to bulk orders placed by our wholesalers, quantities may be limited to stock in hand at the time when you place your order. However, if you are able to wait for a maximum of 2 weeks, we can have any quantity in any color of pearls you need. Check our loose strands for more selections or see what our customers say good things about us from our competitors.