Loose Pearls – Single Pearl or Individual Pearl – Un-drilled, Half-drilled or Fully Drilled
Buying loose pearls? If you are looking for an individual pearl, a single pearl, sold by piece or by bulk, you should look in our "Single Pearl" Department. If you are looking for loose pearl beads on temporary strands, you should check out our "Pearl Strands" Department, by checking out dozens of sub-categories for different shaped pearl.based on the type of pearl you are looking for.
Loose Pearls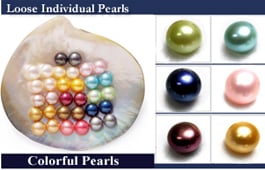 Earrings For Ready Wear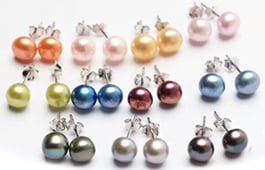 Settings for Jewelry Making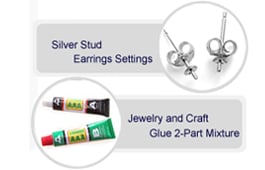 Loose Pearls in All Sizes, Shapes & Colors
No matter what kind of single pearl or loose pearl strands you need, we got them! From round 1mm seed pearl to make a decoration face inside of a high end watch, to a huge single baroque pearl or just a keepsake keshi or biwa pearl or a loose tahitian pearl or just a simple half drilled button pearl or a top drilled drop pearl, all come with additional volume discount on top of our low wholesale price.

Loose, Single & Individual Pearls Un-drilled, Half-Drilled, or Fully Drilled in Larger Holes or Loose Pearl Strands


Pearl sizes: from very small 1mm seed pearls or baby pearls to large pearls that are 35mm or larger real pearls, from freshwater pearls, to Tahitian loose pearls, to south sea shell single pearls.


Pearl colors: from natural white, pink, mauve to processed color in red, champagne, black, green, gold, chocolate, brown etc.
Pearl shapes: from round pearls, semi-round pearls, drop pearls to button pearls, biwa pearls, coin pearls, cross-shaped pearls to baroque pearls to Keshi pearls to mabe pearls, etc., in any shape.

Undrilled pearls: also called keepsake pearls is sold as a single pearl or individual pearl, in all sizes and shapes. Check out loose or individual pearls, or have them half drilled for your settings to make your own pearl jewelry.
Drilled pearls: we have pearls drilled in any sized holes, and anyway that you would like, from fully drilled, top drilled, double drilled, side drilled, half drilled to center drilled or double drilled. Check out our loose pearls on strands and they can be drilled to any SPECIFIC WAY YOU WANT.

Drilled Hole Sizes: We have pearls that have holes already were pre-drilled in various sizes (from 0.7mm, 1mm, 1.7mm, 2mm, 2.3mm, 2.5mm, 3mm or even larger holes) for your jewelry making needs. Quite a few of the large hole pearls and bead are in stock and ready to be shipped immediately from our San Diego, USA office. Just check out from the unfinished jewelry section for buying loose pearls in bulk in any specific shape you like.
Need pearls to be custom drilled, or half-drilled? Or drilled to any sized holes?
We have pearls drilled in larger holes in stock, from 1.3mm to 2mm or 3mm, any hole sizes to accommodate your ribbon or leather cord. Be it single baroque pearl or semi-pound pearl strands, we have them all. Check out our Large Hole Pearls.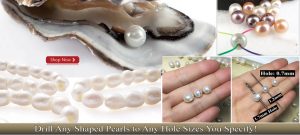 Pearl Drilling- we can also Custom Drill Larger Hole Sized Pearls or Beads: Usually 0.7mm is the regular sized holes. If you like any pearl strands or bead in our unfinished jewelry section to be drilled with bigger holes for leather cord, lace or ribbon, you can use our special pearls drilling service and have the pearls custom drilled to 3mm or larger hole sizes.

However, please note pearls need to be large enough and also allow an additional 2-3 weeks (although padded with extra time) to get the pearls specially drilled in your way, at any bigger hole sizes you specify.
Half drilled loose or individual pearls:
Half drilled pearls are also usually used for making pendants, earrings, rings etc., or just for keepsake by putting the pearls in a pearl cage. We have all types of half drilled pearls from drop pearls to button pearls, to coin pearls, to round pearls, to flat coin pearl, to rectangular biwa pearl, to square Keshi pearl etc..
You can buy undrilled or half-drilled loose pearls in bulk, from tiny pearls 1mm all the way to 35mm huge sized pearls, without any minimum, even just for 1 pearl.

Making High End Jewelry with Real Pearls!
Single Pearl or Pearl Strand & Huge Selections of Jewelry Findings & Tools

Whatever kind of Loose Pearl for Making Pearl Jewelry, We Got them!
Pearl Settings For Jewelry Making
A huge variety of pearl settings for jewelry making needs. If you like any pearl jewelry settings in our store to be made in a different material, or plate yellow gold over silver, we can make them. Just email us the product numbers.
Colors of Pearls – Any Colored Pearls
All of our pearls come with natural colors including white, pink, and lavender. Black pearls are also in stock most of the time. Need a specific color? We will process them!
In a few weeks, we can process any colored pearls that you need. The best way to make sure that we will get the specific color that you want is to send us a sample or a picture, however, if you are unsure about the color of pearls in mind and need to describe it in detail, you can check out parachute of our pearl colors.
14k Gold or 925 Sterling Silver Findings for Pearls and Loose Temporary Strands to Make your Jewelry
There is no minimum order or quantity limit for these pearl strands, just straight forward low prices. You can either get them from our existing stock below for immediate delivery or if you have a special item, you can have your pearls directly shipped out from our pearl farms in China. You can get any naturally colored loose pearls in bulk at any time for your jewelry making needs! All it takes is a few extra days because we ship them out from San Diego, California..
Loose Pearl Strands and Pearl Jewelry