Promotional Gifts with Cheap Pearls & Inexpensive Pearl jewelry Cultured Pearls Direct from Wholesaler
Pearl Gifts – Cultured pearls as nature`s Best Gifts
When you want to promote your business, you want to achieve the most effective results with the most inexpensive means but the highest perceived value. We can help to achieve your goal by using pearls as business gifts for your employees, your seminar attendees or your patrons.
If you think half of your customers are males, and they do not wear pearls or pearl jewelry. However, this is not the case any more.

Meeting attendees and seminar organizers are ordering individual pearls directly from our pearl farms in China, have them wrapped in a silk bag for each person. And people love them.
Real pearls as nature's gift, have been treasured for centuries all over the world. What is the cost?
"It is way lower than a coffee cup – the all too common usual give away gift. " According to one meeting organizer, "After we passed out the gift, one woman rushed to me, saying thank you profusely because she had lost a pearl on one of her rings, and another guy was so excited and trying to find out where he can buy more because he collects stones and rocks, and now this will be another nice collection."
That was for a meeting in Hawaii, organized by a company in California, (company would rather not to disclose their name) who ordered pearls from us which was imported directly from Pearl Farm.
How to custom order your business promotional gifts?

Using an example for a company in UK, what they did was sending us a picture of the pearl necklace they were interested in, and gave a budget for 500 pearl necklaces for their company's anniversary gift.
After 3 days, UPS delivered their sample and the head of the company signed off, and paid by a credit card. Within 5 days, 500 necklaces were delivered in silk pouches, right before their company's big celebration day, all within the company's budget.
"Yes, they did exactly according to our specification with customer made lengths. All we had to do was to pay for the product and shipping, at a price that I almost got my jaw dropped." The company's contact person Linda.
Use Cultured Pearls to make anything from your company's logo to personalized gift

Thinking you need something that is not a freshwater pearl jewelry? Here is the good news. We can make any kind of objects with any gemstones as you like.
An Australia media company sent in a picture of a TV tower, all they needed to provided in their email was the dimensions, and after a few days, a free sample arrived. "Just the right size, the right shape as we specified. It was an unbelievable success when we gave them away as one of our promotions. Because they are all made of real pearls, and each pearl is hand strung together. It is a perfect display for either an office or a home. Our clients can't get enough of it".
Why can we work with you for any budget you have in mind?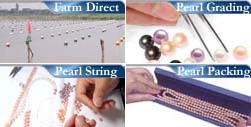 That is because not only we have a pearl farm in China behind it, we also have workers, designers in house to make the pearl jewelry for companies all over the world.
That is the reason why we not only wholesale pearls of any type, any size and any color, but also wholesale jewelry, especially jewelry gifts for your company's promotion, from free gifts for you to give away, or promotional gifts. All you need to do is to give us your budget, and your preferred design or whatever you have in mind. We will work with you by providing you with a free sample and timely delivery.
With us, there is no international traveling involved, no language barriers, and no hassle at all. But you will get the lowest priced promotional items for your business!
Contact us to save you thousands if you have any business promotional needs.