Special Long Necklace for Customers Custom Made for You in Any Design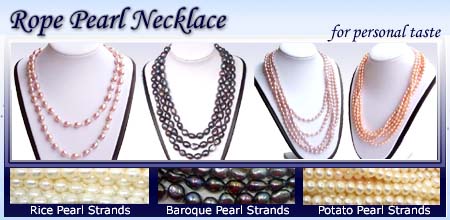 Long necklaces are really hot right now, actually they will never be out of style since you can wear it in so many ways.
You will find pearl necklaces in various lengths from 100inch, 59inch, 48inch, 36inch, 32inch, or 24inch long necklaces at special prices from here:
Drop Pearls (32inch) – Lariat Necklace is made of high quality pearls entangled in an elegant ball. This necklace has many color options, which makes a great accessory for parties or any sort of casual attire and you can get one to match every outfit!
Round Pearls (36inch) – You can wear it loose for a casual and relaxed look, or you can twist two strands of necklace tightly to a shorter length for a simple and sophisticated look.
Mother of Pearls (48inch) – We can guarantee that you will be delighted by this this long mother of pearl necklace, made by quality and workmanship with an incredible classical yet feminine look!
Potato Pearls (64inch) – Put this potato pearl necklace in anyway you want. Tie it up or make it in to 2 or 3 rows and then let it hang in front of your chest, or even make it into a 5 row as a choker.
Southsea Shell Pearls (36inch) – The distinguished look of this shell pearl necklace will make you memorable at every occasion.
Genuine Jade Beads (100inch) – Be natural and be different! You can wear this jade pearl necklace in one row for a casual and relaxed look, or you can wrap it around and wear it as two rows or three rows.
How to Custom Make Your Own Unique Pearl Jewelry – Any Kinds of Pearls, Any Number of Rows, Any Length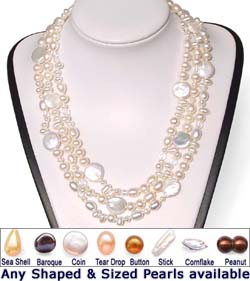 1. We have pearls from 1mm to 12mm, from baroque pearls, potato pearls, coin pearls, rice pearls, keshi pearls, round pearls, button pearls or peanut pearls, you can create any designed pearls in any row, any length, any shape for your unique and one-of-a-kind design. Just email us at support@orientalpearls.net we will make your jewelry within 7-14 business days. All our merchandise comes with a 90-day money back guarantee and 6-month free warranty. Feel free to contact us now and let your dream jewelry piece become a reality.
2. If you find a necklace in our store you particularly like, but would like to change the length, be it at 24″ or 48″ or even 100″ long, we can make it for you too. All you need to do is to write your request in the comment field while checking out, and authorize us to charge the additional cost of pearls.
Click here to learn more on how to buy a pearl necklace that will look best on you.
After confirming your favorite pearl type, choose a chic pearl clasp for your long necklace, it must be even unique in this. Or custom make your 14k gold clasp with your own design here.
The clasp you choose should complement the necklace in both quality and style – 925 pure sterling silver or 14 carat gold are the most favored choices. We also have base metal and magnetic clasp available for you to choose from. Click here to view our collection.