Gemstone Jewelry – All kinds of stone beads – Jade, Tigers eye, Turquoise, Coral & Agate
Custom-Made for You in Any Design
You can add value and beauty to your jewelry collection by adding pieces made from gorgeous natural gemstones! Gemstone jewelry is unique looking and can captivate the eye of any onlooker.
Gemstone jewelry can include stunning necklaces, ranging from elegant engagement pieces to chunky afternoon wear. Earrings can consist of chunks for stud earrings, or delicate long earrings that dangle provocatively and create a shimmer effect.
Tiger`s eye is also known as Tigerseye or Tiger-eye. This gemstone is formed in metamorphic rock, and has a deep glossy shine in golden to red-brown shades. The luster of the tiger eye gemstone jewelry adds to its mystique and makes it the perfect type of setting that is intended to add smokiness to a evening gown or an earthy look to a jeans and sweater set.
Red coral can also be considered lucky – coral is actually derived from the remains of living organisms living in the sea, and the striking red color makes coral gemstone jewelry as stunning as can be! Imagine a red coral necklace draped across a silky white dress. The coral is easily fashioned into beads, rosebuds, and other ornamental shapes perfect for necklaces and earrings.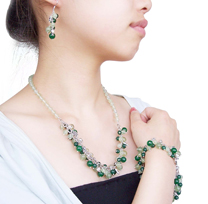 Turquoise is a blue-to-green mineral that is very popular in certain parts of the world in both jewelry and as a setting in belts and other apparel items. Although turquoise, like most other opaque gems, has been devalued by the introduction of `fake` turquoise, the real thing is unbeatable when it comes to real turquoise gemstone jewelry. The many ways turquoise can be cut and fashioned makes the possibilities endless, and the resulting pieces are an excellent choice for Southwestern wear.
Jade is a gorgeous green ornamental stone made up of different silicate minerals, that fissure and fracture into different shades to create one of a kind pieces. Emerald green jade beads and carved ornamental pendants can add an exotic flair to a little black dress. Jade gemstone jewelry is one of the most favored types for jade is thought to bring luck!
Loose Gem stone Beads and Temporary Strands
Beads made of dusky Tiger's Eye, brilliant red coral, stunning green jade or swirling turquoise will be a welcome addition to any woman`s wardrobe – because we can all use a little extra color! Best of all, you can get the perfect piece for your wardrobe, since gemstone jewelry comes in every conceivable style and size!