Keshi Pearls – Single, Loose Strands or Pearl Jewelry
from 4mm small to Huge 30mm @ Wholesale Cost
Direct from Our Own Pearl Farms

Keshi pearls also called cornflake pearls, snowflake or petal pearls sometimes, are unusual and hard to get. Keshi pearl strands are natural free shaped flat and somewhat chunky pearls. Below are samples of our loose Keshi pearl strands from small 5mm to as huge as 30mm at wholesale prices as low as $8/strand, where same quality Keshi pearl strands are being sold in other stores for hundreds of dollars more than ours.

But not when you buy Keshi pearls directly from our own pearl farms. Type "Keshi" in search, or check out our high-quality Keshi pearls on loose temporary strands in all colors and sizes here, you will get high quality all sized Keshi pearls or Keshi pearl jewelry at the lowest wholesale prices. How can we guarantee that?

We can custom make your Keshi pearl necklace or bracelet jewelry. Also, if you would like to have Keshi pearls in other colors, sizes, and shapes, please email us. You can also custom order them in any color, (50 strands minimum for a purpose of the correct color) directly from our pearl farms, and drill them to any sized holes.
Create Unique Pearl Jewelry Made of Keshi Pearl Strands by yourself
Get pearl clasps at low wholesale cost without any additional shipping cost

A wide range of pearl clasps are available for you to choose for making your own pearl necklaces. They are either in 14k gold or 925 sterling silver. Buy the pearl clasps on line here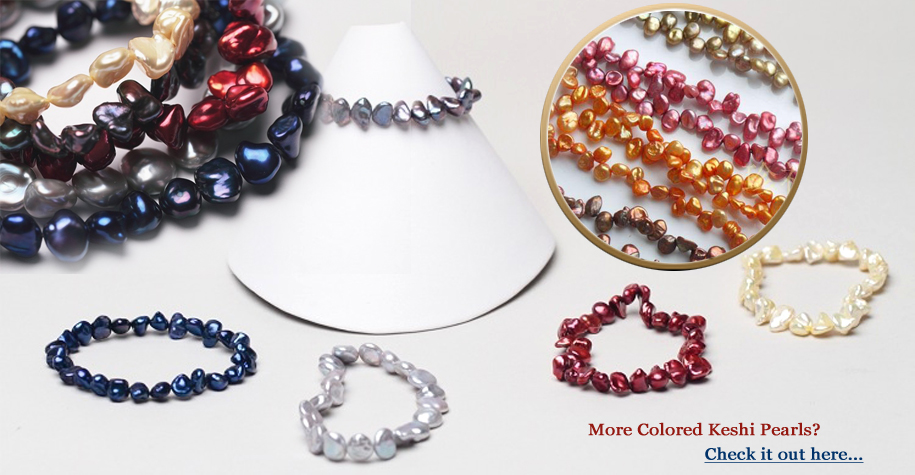 If you like any one of the following strands and would to have a keshi pearl necklace, a keshi pearl bracelet, or a pair of keshi pearl earrings in ANY COLOR that is any one of the keshi pearls with any cleasps we have, all you need to do is to email us with a picture or a link, we can have it custom made for you. See what our customers say good things about us from our competitors.