Pearl Cages, Pearl Holder Pendants for Keepsake Pearls
925 Sterling Silver or14K/18K Yellow Gold Cages
We wholesale pearl cages or pearl holder pendant in all shapes and quantities
Pearl cages are to hold loose undrilled pearls. They can be made in any type of settings, from 925 sterling silver pearl cage, to 14k solid gold pearl cages. With a simple pearl cage and a pearl in any size, any shape, or color from our loose pearl department, or choose a pearl oyster in a can, you will have a unique pearl necklace that will be treasured forever.
Pearl Cages made of 925 Pure Sterling Silver with Yellow or Rose Gold, or 14K Gold
Customize Your Own Pearl Cages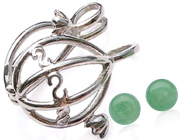 If you want something unusual and unique, something we don't have, or simply would like to have that silver pearl cage be made as a 14K pearl cage pendant, we can make it for you, even if you just want 1 piece. For sterling silver pearl cages, we do have a minimum order size. Rest assured that we can make any sort of pearl cage you`d like and the setting of your choice for any design of pearl enclosures or pearl cage holder. Email us today for a quote on your heart`s desire. Find more details>>
Our selections include pearls in oysters, pearl cage necklace, pearl cage necklace sets, pearl cage holder, sterling pearl cages etc.. We are constantly creating new designs since we have our own pearl farms and our own manufacturing units to do the work ourselves. We can customize make your pearl in a mollusk with cage and chain to the exact design you would like.
Pearl Cage – the best pearl gift
It is very common for a birthday party to have the thrill of harvesting your own pearl from pearl oysters, and then set it in a cage and make your own pearl necklace to give their guests an unforgettable experience. Pearl cage to hold keepsake pearls is also used often for weddings and bridesmaids. If have been gone for a vacation and near a beach, consider to bring home some undrilled pearls and pearl cages with silver chains to match, it will make them the best gifts for a wish to come true and the pearl necklaces that will be wear and kept for a long time.
If you are looking to buy in large quantities (100 minimum) at wholesale prices, please email.