Direct from Wholesaler – Any Color, Size & Styles
Amazing Real Pearl Jewelry @ Low Cost with Exclusive Design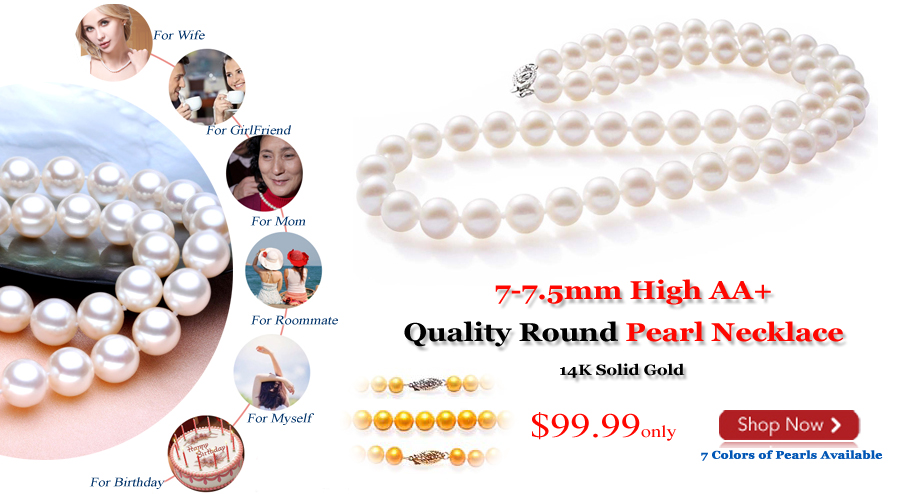 Buy high-quality pearl necklaces with 14k gold or 925 Sterling silver at the Lowest Wholesale Price. Our Real pearl necklace will make you look gorgeous, but also give you the Best Value!
"Pearl Necklace" from everything elase from tin cup necklace to add a pearl necklace , from multi-strand pearl necklace to classical pearl necklace, from versatile necklace to baroque pearl necklace, from unique pearl necklace to small pearl necklace with price as low as under $20, choice is endless…
Tin Cup & Add a Pearl Necklace
Multi Strand Pearl Necklace
Multi row pearl necklaces are classy and elegant. From Jackie O`s famous 3 strands pearl necklace at 16″, 17″ and 18″ long to Princess Diana`s Striking Pearl Collar made of 400+ real pearls. This most exclusive collection worn by the celebrities that is sure to meet your demand.
Classical Pearl Necklace
Pearl necklaces run the gamut from a single pearl drop pendant on a simple chain to twisted ropes of pearls in different colors and shapes. You can string pearls on almost invisible wire to create a floating effect, or mix them with beads or polished stones to create your own special look.
Versatile Pearl Necklace
Baroque Pearl Necklace
Unique Pearl Necklace
Single row pearl necklaces are luxurious and classical. From here, you can choose it from a necklace at 17″ princess length, or a versatile necklace at 36in or 64in long.
Small Pearl Necklace
The clasp you choose should complement the necklace in both quality and style – either 925 pure sterling silver or 14 carat gold are the most favored choices, and we have a wide variety available for you to choose from. Click here to view our selection.
Whether you go for a traditional choker or a dreamy floating necklace, adding pearls to your jewelry box is a smart move. They truly are the most versatile and beautiful way to accent your wardrobe.
Love the design of pearl necklace above but would rather to:
change 925 sterling silver clasp to 14k solid gold? or
shorten or lengthen the necklace length? or
change an exotic pearl colors like green, red, champagne, chocolate or others?
We can make any piece of jewelry you love, just email us your request, we will do all the rest.
Custom made for you
Don't see the color or size for the pearls you want? Or the 14k yellow or white gold clasps that you prefer? Or would like to use different shaped pearls for the jewelry piece? Please let us know, we can make it per your specific requirement.
It comes with a 6-month free warranty. And all it takes is an additional few days. Please email us at support@orientalpearls.net, we can make any kind necklace you would like in all sizes and at any length to your specifications.