Want to get the latest Scoop on How Celebrities Wear Pearls? Check out our Pinterest Board here, or learn more about pearls and jewelry from our Blog
Kate Hudson, Queen of Tahitian Pearls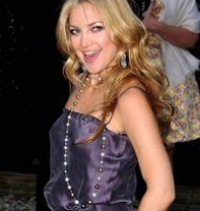 Kate Hudson has several reasons to be in the news this week. Earlier this week, Kate Hudson gave birth to a baby boy with fiancé Matt Bellamy. Besides the happy birth of her son, Hudson is frequently in the news because of her sense of style women worldwide try to model. However, she isn`t the only star actresses of the summer movie Something Borrowed that has excellent taste in fashion. Recently, we had an article on Ginnifer Goodwin`s beginning style and her elegant choice of pearl studs. Unsurprisingly, a woman like Kate Hudson who grew up with a literal superstar of a mom has just as stylish fashion sense.
As picture shown, Kate Hudson is wearing a long pearl necklace. But unlike the other stars sporting this style, Kate Hudson takes it up a notch by wearing Tahitian pearls necklaces. Tahitian pearl necklaces are more expensive and more extravagant than regular pearls. Firstly, black pearls are very, very uncommon and most pearls are dyed black during the cultivation process. Tahitian pearls are the only pearls that naturally occur as black with colors ranging from silver to gray. Not only are these types of pearls rare, but they take an especially long time to cultivate. It takes about 2-3 years for an oyster to produce a single black Tahitian pearl. The survival of the oyster is uncommon as well. Due to these factors, Tahitian pearls typically range from upper hundreds to sometimes several thousand dollars. Find more tahitian pearl jewelry here.
Celebrities who are also pearl lovers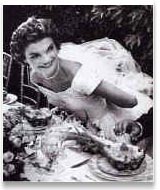 Both Michelle and Cindy remind us of other famous pearl wearers:
Audrey Hepburn: When the actress came out in Breakfast At Tiffany with that little black dress and dramatic set of pearls it was an instant moment in fashion history.
Jackie Kennedy: The First Lady made pearls an essential part of her outfits and took them from casual wear to chic and is often remembered to be wearing streamlined dress with pearls.
Princess Diana: Look back at any photo of the princess, she would be more often than not seen wearing pearls. Her use of simplistic jewellery like pearls with daring dresses is what helped turn her into a fashion icon.
Sarah Jessica Parker: In both the series and movie of Sex And The City, SJP often wears long strands of pearls, showing us true, classic and innovative style.
Coco Channel:As self-made millionaire and founder of the fashion empire, born in poverty, believed jewelry should be worn to decorate rather than to expose wealth. She used imitation pearls extensively in her design. Since pearls were regarded as the privilege of the wealthy when she was growing up, She made her artificial much bigger and also in other colors than natural color of pearls, with rows of pearls arranged in pearl chokers, pearl brooches and pearl pendants.
Pearls for teenager? You bet!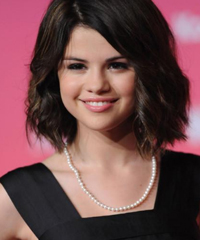 Justin Beiber`s new girlfriend, the girl approximately every single teenager girl in America is envying right now, Selena Gomez.
Right now Selena happens to be known as the girl with the most-wanted boyfriend on the face of the planet, but before she garnered that label, she was also known as the cute kind from Barney, the next Miley Cyrus, and the face of Disney. How did she get it all? Fame, a sweet boyfriend, good sense? Unlike other Disney products gone wrong (cough, cough Miley, Demi, Vanessa), we aren`t expecting on seeing her on the cover of People for doing something illicit.
Selena has become the ideal model for all of our daughters today. She dresses sensibly and stylishly and not skimpily (cough, cough again, Miley, and especially you, Vanessa). She knows how to simultaneously balance enjoying being a kid and the perks of fame. Above, Selena takes a simple pearl necklace to make her LBD pop. What would have originally been perceived as a relatively drab and low-key dress, Selena made it stand out with some styling of her hair, and a pearl necklace. Selena knows how to look mature and have adults take her seriously while still living her salad days.
.
.
Sandra Bullock: America`s Sweetheart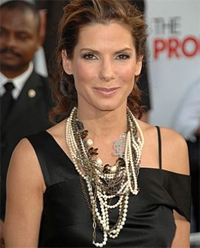 After a heartbreaking divorce last year during the peak of her success, Sandra Bullock was resilient and recovered with grace and dignity. Now a year later, she is still riding on her success and even happier than ever as a new mother to her adopted son.
Wherever she goes, whatever situation she is in, Sandy only inspires class and elegance as well as down to earth nature we hardly see in celebrities. Even with being a new mom and having to rebound from the nasty divorce from her former husband, Sandy always looks stunning whether she`s on the red carpet or taking her son out. In this photo above, Sandra wows as usual equipped with a simple yet flirty LBD and chic updo. What stands out most in this photo though isn`t even her smile, but how she plays with her pearl jewelry in the new raging chunky style. Sandra sure knows how to impress!
Accessory is one of the best ways to make your wardrobe more exciting. If you`re not buying new clothes, investing in new jewelry can create a "Wow!" moment into your old everyday outfit.
.
Natalie Portman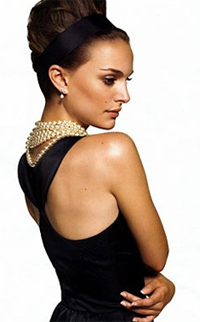 Academy Award winning actress Natalie Portman has undeniably been quite the buzz lately.
Popular for her performance in Black Swan, the media just can not seem to get enough of her! No matter how many award ceremonies she attends she always appears flawless. For some reason, no matter how much the media shoves the image this classy, talented lady in our face, we have yet to get fed up with constantly hearing about her (unlike some certain other stars who have used up their fifteen minutes of fame years ago, cough, Lady Gaga, cough, Lindsey Lohan). The reason why Portman is so appealing? Is it simply her outstanding performance in Black Swan, or her classy style or her spotless personal life, or maybe we just love the fact that she is a vegan, something most of us could never pull off? The list is endless.
Everyone wants to emulate Portman's classy, flawless style, unsurprisingly. Who does not want to look like a star? Portman continues to stun her followers by her choices of dress. No matter what Portman wears to award shows, she just never seems to make a single miss. Whether she's impressing in a pink rose dress showing off her glowing baby bump, or showing up in glamorous pearls, Portman just can't seem to help but look like a fashionista rather than a model wherever she goes. Are pearls possibly becoming a part of Portman's signature style? Maybe us commonfolk could pick up a few tips to brighten up our own styles.
There are many styles and colors to choose from. To add a color for spring, the most popular are medium length necklaces in hues ranging from pure white to baby pinks to chocolate brown, such as these pearl necklaces.
.
What will the future princess be wearing on her wedding day in 2011?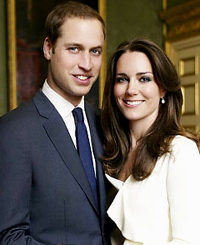 With the upcoming royal wedding of Prince William and Kate Middleton, everyone is dying to know, what will the future princess be wearing on her wedding day? With a look at past royalties, pearls are her most likely choice. Princess Diana was frequently spotted sporting elegant pearl chocker necklaces. Maybe, Kate's future grandmother will loan her a little something from her personal jewel collection. From the looks of it, pearls play a big part in royal family, and it doesn't like Kate Middleton is looking to stray away from the fashion.
Pearls are a large part of the queen's personal jewel collection. During Diana's first official visit to Australia in 1983, the queen loaned Diana diamond pearl drop earrings. Pearl drop earrings are simple and elegant, a great way to make a first impression.
.
.
.
Pearls at the Golden Globes
The Golden Globes are just the beginning of the award season, and one of our favorite seasons. But lets be real, we do not just watch it for the awards, we watch it to judge our favorite stars' fashion senses and today we want to recognize Sarah Hyland's gorgeous style choice.
Most of us know Sarah Hyland as the typical teenage daughter, Haley, from Modern Family. At the Golden Globes however, Sarah Hyland shed her teenager personae and appeared one of the most beautifully dressed with her big bangs and updo along with her elegant neutral colored dress. What caught people`s attention the most though was her drop-dead gorgeous chunky pearl necklace. Her choice of necklace matched the rest of her outfit perfectly. Out of all the women wearing jewelry and the Golden Globes, Hyland's choice of necklace most definitely made her stand out.
Another one of the queen's extravagant pearl pieces are Queen Anne's pearl necklaces. Queen Anne was the last monarch of the Stuart line. Modest about her jewelry collection, one piece she kept especially close to her were two pearl necklaces of different lengths to be worn together to give a ¡°double strand¡± necklace look given to her by Prince George. The necklaces have an estimated value of £4,000,000! Luckily, you can get a similar look for a mind-blowing bargain price.
Celebrity Inspired Pearl Jewelry made of Cultured Pearls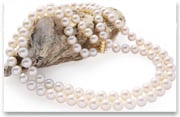 Ever since ancient times, pearls have always been favored and revered by women for their beauty as well as symbols of wealth. Now with Michelle Obama and Cindy McCain both have been wearing colored pearls on their campaign trails, pearl are gaining more popularity than ever. Especially for women in power or have a good taste, they are often more inclined to be wearing pearls instead of flashier stones.
While Laura Bush sometimes wears a single strand of pearls, Cindy McCain is wearing her four-strand pearl necklace on several important occasions, including the speech introducing her husband. She was seen wearing a funky baroque necklace with uneven-shaped pearls to complement a navy suit.
Obama, who was wearing a single strand of large, white pearls around her neck with a purple dress at the Democratic nomination, was named to be on the Vanity Fair`s International Best Dressed List.
Pearl Necklace and Earrings
For a classical and timeless pearl necklace as Jackie O is wearing in this picture, a single strand high quality round pearl necklace can never go wrong as a gift for someone you love or yourself.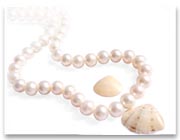 A necklace can complete an outfit and give insight into a woman's taste and even her personality. It is always the best to wear it from the waist up to draw onlookers' eyes toward the face. You will never go wrong with a simple black or white single strand pearl necklace with any outfit.
We have pearls direct from pearl farm, from 4mm all the way to 13mm round huge pearls, price ranges from as low as under $25 to as high as thousands, designed for every budget to complete your outfit, and to show your own style. Despite the price difference, one thing certain is they all come with the highest value when you compare them with the same size, or same graded pearls at a cost that cannot be found anywhere else.
What`s Hot in Pearl Jewelry now?
For the season, pearl jewelry is becoming not only stylish, but also more bold and chunky. Chunky jewelry has made inroads with the fashion crowd over the past year. Nancy Pelosii is also wearing quite large sized multi coloured pearl necklace which makes her look just stunning.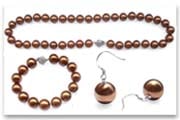 It takes a confident woman to wear chunky jewelry, but it does not take a deep wallet as you would think, which is evidenced by our customers who grab our majorica, also called south sea shell pearls jewelry that achieves the same glamorous look at a fraction of the cost. The 12mm Multi-colored South Sea Shell Pearl Set of 2 with 14k White Gold Clasps for under $80 (Product No. ZMA1003S), and 14mm pearl necklace and bracelets for under $60, (Product No. ZMA1021)both are our best selling items, demanded by our customers to bring them back after we tried to take them out.
The other way to find them is to type "shell" in the keyword search box in the "Matching_Set" category, you will find more chunky seashell jewelry that rivals the same look as the ones that cost hundreds and thousands.
Channel's latest long clasp-less necklace is for the multi-strand necklace since they can be used for wrapping around your neck as one row, two rows, three rows, etc. Here is a version of the 64″ long pearl necklace that is made of real pearls with a pearl of earrings for under $50. You can also type in ZMA1003 in the search box for Product No.
In addition, multi strand pearl necklaces are catching on. The same kind used by celebrities from Jackie Os famous three strand pearl necklace, (type in NLHZ1001 in the search box for Product NO.)to the Princess Diana 4 row choker (NLHZ1023 is the Product No.). Queen Caroline on the other hand was more flamboyant about her collection of jewelry. She had four pearl necklaces in particular that she wore to her coronation. In 1947 the necklaces of Queen Anne and Queen Caroline were passed down to the then Princess Elizabeth II as a wedding gift from her father.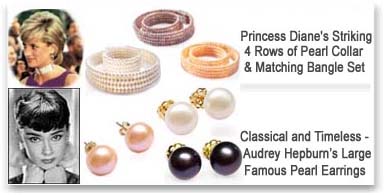 How to Wear Pearl Jewelry?
To accentuate your look, you may want to consider mixing and matching different sizes and colors to give that extra flair to your ensemble. They look the best with an off the shoulder soft sweater or even with an unbuttoned neckline of a blouse or shirt.
For a classic look with a twist, try a black off- in white and pink hues or go for this pearl necklace for under $30. It`s perfect for the season.
Would like to learn How to Accessorize with Diffe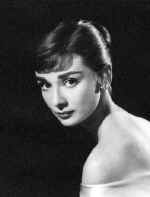 rent Pearls and Pearl jewelry? Find out more information from Pearls Wear Guide.
We will have just the right pearl necklace (we even will custom-design your length) for you. Because we have their own in-house workers and use the pearls from our own pearl farms, we can make a unique design for any kind of pearl jewelry free of labor charge.
So the next time you go for an evening out, just put on those pearls for an exquisite look and get a lasting impression with genuine pearls.
Why not try out our wholesale priced real freshwater pearls with all risk on us? Why would you pay a high price while you can get the same quality here at a fraction of the price?
Would like to try out or just get some ideas for your own pearl jewelry? Be part of our pearl jewelry design blog and be automatically updated for any new products for designing your own pearl jewelry.
Or just pin our Pinterest Board at https://www.pinterest.com/orientalpearls/celebrities-love-pearls/ and get more the latest Scoop on How Celebrities Wear Pearls? here.