REAL Pearls Earrings – at Lowest Wholesale Cost
18K Gold or 925 Pure Sterling Silver with Real Pearls
All Colors, All Shapes & Huge Selections
Looking for pearl earrings at affordable prices? Guaranteed you will find a pair from "Pearl Earrings" department under "Pearl Jewelry" with REAL freshwater pearls set in Made of 14k/18k real gold or 925 pure sterling silver, at unbelievable low wholesale prices! Nowhere else for this cheap at such a great quality.
Pearl Studs Earrings
You can't go wrong with simple pearl studs. Nothing sets the tone for an evening dress like two traditional white pearls in gold or silver settings!
Drop Pearl Earrings
From pearl earrings studs, to clip on earrings, to dangling pearl earrings to lever back, to chandelier, from white, black, pink to lavender colored pearls, from single pearl to two pearl or clustered pearl, pearl earrings are always in style! These pearl earrings have styles that are perfect for both formal and casual occasions from:
Round Pearl Earrings
The round pearl earrings are perfect for any occasion, and you can match them with a necklace for a complete look.
GemStone Pearl Earrings
tiger eye earrings, real jade earrings, or coral earrings, we have all these popular gem stone earrings in stock!
Other Shaped Pearl Earrings
Pearl earrings go with everything. They are the perfect accompaniment to any outfit and any occasion, from a first communion to wedding day. They can dangle to your shoulders or glint from your lobes, and you can choose the style to match the occasion!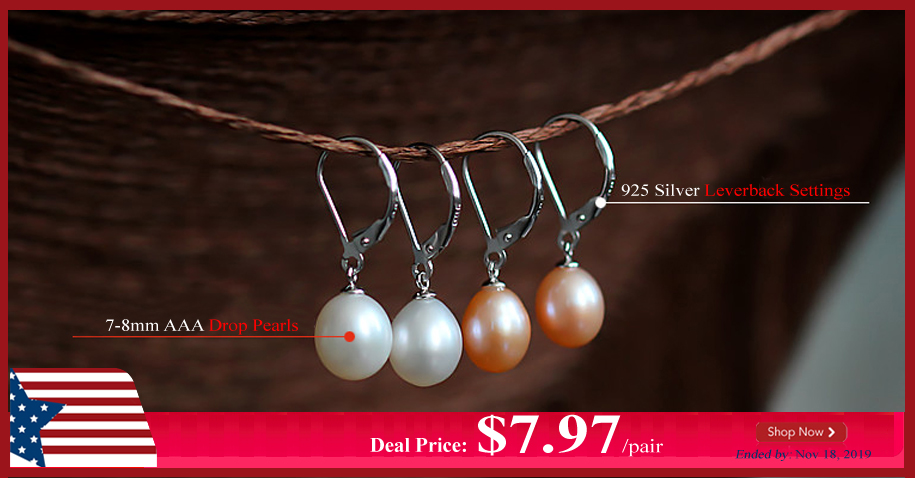 Base Metal Pearl Earrings
925 Sterling Silver Earrings
14K/18K Solid Gold Earrings