Shopping for Christmas gifts for her has never been so easy, with these pearl necklaces that range from sassy to seductive.
This cascading iridescent garland of cultured pearls is secured by a decorative rose shaped clasp, stamped 925 s
terling silver.
These pearls are flat on the back and dome shaped on the front,which makes them ideal for a snug dog collar style choker because they will lay flush against the neck.
The pearls are all high quality and luster, 6-7 mm, with a very round shape and no visible surface markings.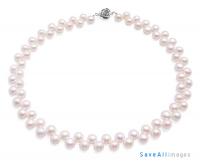 Next up: This single or double loop pearl necklace is made of 8-9mm mauve rice pearls and 3.5-4.5mm white potato pearls. It has a length of 36inch long.

Stunningly elegant, yet still very simple! You can wear it any way you please and create many different looks. Very versatile!
White rice pearl / mauve potato pearl necklaces are available for immediate delivery.
For the more serious commitment: Here is a beautiful and versatile strand that is just entering the rarity category for pearls because from this size on, the pearls are becoming harder to harvest and more expensive.
These 8.5-9mm AA quality pearls all come with high luster, well matched in round shape, and with smooth surface. The necklace has a length of approximate 35.5inch long, finished by a 14k yellow gold clasp for elegance and security.

Taking it back down a notch, try this lovely pearl necklace. These are equivalent very high AAA gem quality 7-7.5mm genuine freshwater pearls with very high luster, very well matched and in round shape with hardly any surface flaws.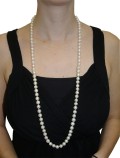 The necklace is approximately 15.5″ length and secured with a 14k solid white gold clasp. Only white colored pearl necklaces are in stock for clearance sale.
Shop now for Christmas gifts for her – our amazing sales won't last forever!