Wish Pearl Sterling Silver Necklace Kit with A REAL Pearl in An Oyster
Looking for a wish pearl kit? Harvest your own Wish or Love Pearl Necklace kit from a real pearl oyster now!
1. Make a wish as you open the sealed wish pearl can.
2. Open the mollusk and take out the pearl.
3. Take out the necklace and open the cage.
4. Put the pearl inside the cage and close it.
Our basic Wish Pearl in Oyster Gift Set includes a Wish Pearl can, a pearl cage and a 925 sterling silver necklace! A perfect pearl jewelry kit to show your love for any occasion with real pearl in silver, all for $12.99 only. Wish Pearl Kit with Stamped 925 Sterling Silver Necklace.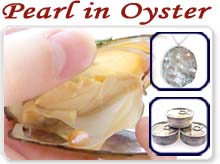 From live oysters with pearls, a pearl inside a can for as low as $4.49, to wish pearl gift set and love pearl necklace kit, the experience will not only be thrilling for an oyster opening party but also unforgettable, as you will be able to harvest and make your own wish pearl necklace, perfect for a birthday party or to pick a pearl cage and a chain to complete the look!
You can also get a wish pearl gift set with a pair of pearl earrings studs, also set in 925 sterling silver. The best choice is the gift box also include an extension chain with everything set in 925 sterling silver, for less than $40, so that the necklace can be adjusted to any length depending on the neckline of the cloth. A piece of fine jewelry with 925 sterling silver and real pearls that will be treasured forever.