Single Loose Tahitian Pearl & Pearl Jewelry @ Wholesale!
When it comes to high-end pearl jewelry, Tahitian pearls are among the most sought-after and prestigious. Known for their unique colors, high luster, and near-perfect round shape, Tahitian pearls are a favorite among jewelry enthusiasts around the world. When using high quality single loose authentic Tahitian round pearls, you are guaranteed to create stunning high-end jewelry pieces that will be a family treasure forever.
We have perfectly round shaped authentic Tahitian single loose pearl from 9mm to 10amm, 11mm, 12mm, 13mm to huge 14mm, from AA grade to AAA high grade, from undrilled to half-drilled for you to make your own high-end jewelry from a pair of Tahitian pearl earrings, a pendant. Or a beautiful already made 10-11mm Tahitian pearl necklace.
Loose Tahitian Pearl – Single
A single loose Tahitian pearl can be used as the centerpiece of a stunning pendant or incorporated into a statement ring. Two matching (almost due to they are nature-made) pearls can make a pair of Tahitian pearl earrings that will add elegance and sophistication to any outfit.
One of the most notable features of Tahitian pearls is their wide range of natural colors. Available in a variety of colors along the spectrum, Tahitian pearls are typically smoky or metallic, from deep greens to dark blues and even purple and black shades, which are called Tahitian peacock color to its original named Tahitian black color, each pearl is truly unique and highly prized. Our in-stock high AAA quality of these Tahitian pearls means that they have an exceptional luster and shine, making them the perfect choice for you to create eye-catching and glamorous jewelry.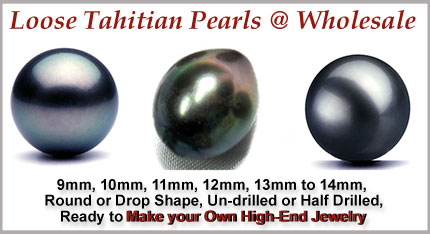 One of the great benefits of using high-quality Tahitian pearls in your jewelry designs is that they are incredibly versatile. The range of colors available means that they can be paired with a wide variety of metals, gemstones, and other materials to create a unique and personalized look. For example, a Tahitian pearl pendant can be paired with a gold or platinum chain, while a pair of Tahitian pearl earrings can be set in silver or white gold.
In addition to their beauty and versatility, Tahitian pearls are also highly durable and long-lasting. With proper care, they can last for generations, making them a wise investment for anyone looking to create high-end jewelry that will stand the test of time.
These pearls often reveal hints of blue, green, brown or purple, though the appearance depends on the light and the individual pearl. Because they come from a large oyster – the Pinctada maxima, they are relatively large pearls, too. Other possible colors include pink, cream, and silver. When combined with gold or silver settings, they stand apart as exquisite pieces of jewelry.
A single black pearl set in gold is a classic accessory to that little black dress, whereas gold settings complete the chic look when worn with an earthy or warm-colored sundress. While some pearls are perfectly symmetrical, others have an irregular shape that only add to their charm. You can't go wrong with these natural jewels, but you may have trouble choosing your favorite piece from the selection.
Tahitian Pearl Jewelry – Timeless and Highly Sought-After
Be it a pair of Tahitian pearl earrings, pearl ring, pendant or a strand of Tahitian pearl necklace, it is ab excellent choice for anyone looking to invest in beautiful and unique pieces that are sure to turn heads. With their exceptional luster, unique colors, and long-lasting durability, Tahitian pearls are the perfect choice for anyone looking to create jewelry that is both stylish and timeless.
In addition, Tahitian pearl jewelry complements a range of attire, from casual beachwear to an elegant evening gown, as the "black pearls" offer an intriguing blend of dark colors and refinement.
Mary Queen of Scots, who was always fond of exotic jewelry, wore a full strand of pear-shaped black pearls. While most modern pieces of Tahitian pearl jewelry are not nearly as extravagant as hers were, they continue to radiate the timeless splendor that was once only fit for queens. See more celebrities inspired jewelry.
The surrounding gems and precious metals that accompany black pearls will help you determine which piece matches your ideal look. A delicate earrings is simple and sleek, and a pearl paired with other gems is quite the luxurious addition to formal attire. Black pearl earrings complete the set, but you can wear them alone to accessorize a range of garments.
Depending on your wardrobe, you may find that black pearls offer you the versatility that lets you slip from one outfit to the next without a change in accessories.
This jewelry is not only a prized addition to your own collection, it is an attractive gift option for the fashionable woman in your life, be it your daughter, mother or friend. With each piece of Tahitian pearl being a work of art in itself, it's a unique and thoughtful gift that she can appreciate for years to come.
So whether you`re looking for a remarkable gift or the perfect accessory to your own wardrobe, consider the enduring appeal of black pearls combined with both vintage and up-to-the-minute fashions.
As you can tell, it's tough for one to get one's hands on Tahitian pearls. However, they are worth their price tag and not only because of their difficult cultivation process or their rare natural black color, but also because of their profound beauty and elegance.
Luckily, there are ways to get your hands on these precious jewels without emptying your bank account. OrientalPearls.net is one of the very, very few websites that offers Tahitian at an affordable price and compared to their competitors, they are a trustworthy site that offers a 6 month warranty! Shopped at OrientalPearls.net before? Then you are on the lucky few eligible for a free Tahitian pearl necklace gift!