Pearl in Oyster – The Perfect Gift with Real Pearls Direct from Pearl Farms
Looking for a pearl factory that wholesale pearl oytsters? You found the right place! You can find pearls are still in oyster. These pearl in oyster gift kit give an unforgettable experience of "discovering" your own pearls while openning it! With our pure 925 sterling silver necklace, our wish pearl gift kit is a valuable piece of jewelry, to be treasured forever…
From live oysters with pearls inside for as low as $9.99,pearl in a can, to wish pearlgift set and love pearl necklace kit, the experience will not only be thrilling for an oyster opening party but also unforgettable, as the pearl you get from our oyster is a totally ROUND, instead of a cheap, crappy rice pearl, so you will be able to harvest and make your own wish pearl necklace, perfect for a birthday partyor to pick a pearl cage and a chain to complete the look! Volume discount is also available for up to 40% off.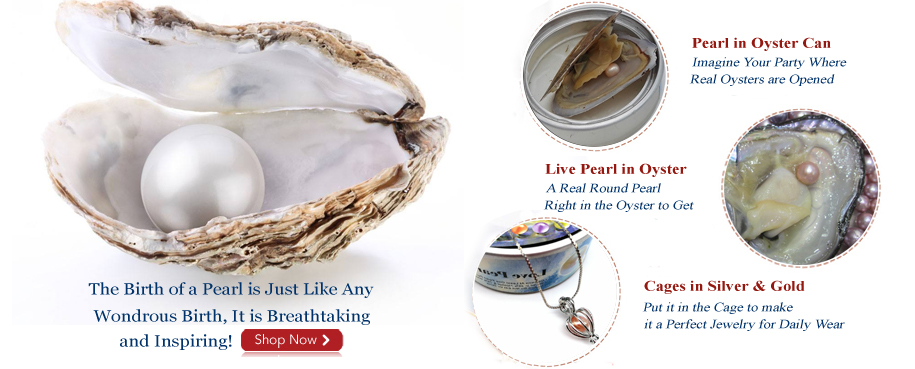 For a great presentation, give the Love Pearl in Oyster Gift Set or a Wish Pearl Kit with Stamped 925 Sterling Silver Necklace. It includes a Pearl can, a base metal pearl cage and a 925 sterling silver necklace! A perfect pearl jewelry kit to show your love for any occasion with Real Pearl in Silver
Pearls in the half shell are available for a stunning display – These natural beauties are edged with silver and are inlaid with a cluster of cultured pearl for a conversation piece no-one can ignore which is beautifully trimmed!
Take a look at this luxurious accessory or check out our Pearl in oyster category for more selections.
Flower Shaped Pearl in Oyster Pendant
Flower pendants are perfect for a child, with their pearl in oyster settings surrounded by 18 carat gold. Any child would be fascinated by this unique gift that shows mother nature at her best! You can still see these pearls inside through the oysters!
Flower shaped pendants are a great gift for your daughter or niece. Simply string on a matching chain, and her friends will love looking for the pearls just under the surface! Get a spare for her best friend, too!
Take a look at this Flower Shaped Pearl in Oyster Pendant or check out our Pearl in oyster category for more selections.
Unique Pearl in Oyster Pendants
Our stunning pendant with pearls imbedded in the frame and surrounded by gold will complement any outfit, especially if strung on a matching gold chain. Each piece is distinctive and unlike the next because of their naturalness!
Take a look at this Unique Pearl in Oyster Pendant or check out our Pearl in oyster category for more selections.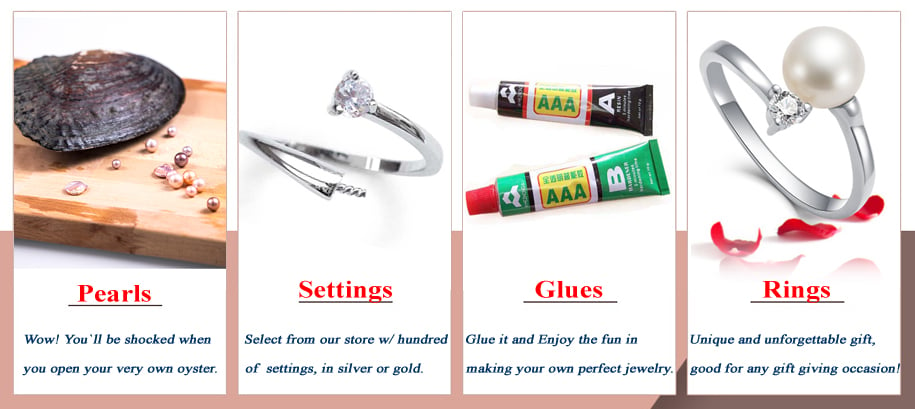 A unique live pearl in oyster can be just the gift for a your any gift giving occasiion. Melt her heart with this special gift; each one is unique as to shade and she is sure to love it! You can also choose any kind of pearl settings, from pearl earrings settings, pearl brooch settings, pearl pendant settings to pearl ring settings, either in sterling silver or solid gold. Glue it with your favorite pearls, you will surely be the only one who has this particular pendant in your town.
Unique and unforgettable gift, good for any gift giving occasion!
Didn't see any preferred jewelry? or would like to make more unique and unforgottable gift to your lover?
Get them customized to your own specification, with our own in house manufacturer. It comes with a 6-month free warranty. And all it takes is an additional few days. Please email us at support@orientalpearls.net with your specific requirements.
Tips: How to Keep Oyster Fresh?
If you need to buy them in advance and keep them fresh, it requires a little bit of work. Two things appear to prevent the decay of the oyster fresh, bubbing alcohol, and cold. So what we recommend is to get some sort of container and fill it with a mixture of 30% rubbing alcohol and 70% cold tap water(at least 50-60F, but the colder the better.) Once inside that solution the oysters themselves should remain fresh practically indefinitely.