From 1mm Round Seed Pearl to 15mm Huge Round Pearls
Direct from Pearl Farm at the Lowest Wholesale Price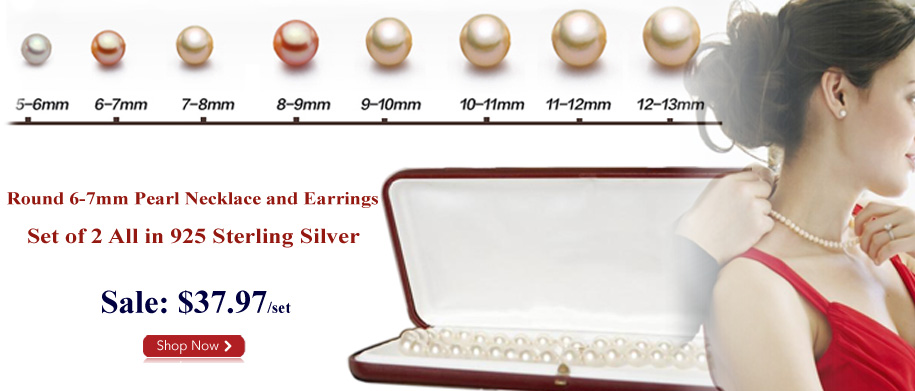 Classical and timeless! Round pearls are the most common shape when we think of pearls. From 1mm seed pearls all the way to 15mm large pearls, in all colors and grades, from un-drilled or half drilled keepsake pearls to fully drilled pearl beads strands, we have the largest collections of round pearls and round pearls jewelry, all guaranteed at the lowest wholesale cost directly from our pearl farms, at the lowest wholesale cost.



With hundreds of styles in our pearl jewelry store, all you need to do is to search in the finished jewelry or unfinished jewelry departments for the color and size of round pearls you want, you will see them all. Be it Single Individual Round Pearl drilled or half drilled, or un-drilled, or Round Pearl Beads on Temporary Strings here, or Round Pearl Necklaces. The following are just some samples of our round pearl products in stock.
Pearl Jewelry Made of Round Pearls

Looking for finished pearl jewelry made of round pearls? Here is a large 9-10mm black round pearl necklace finished with a 14k solid yellow gold clasp, a fine jewelry that will be treasured forever? Guaranteed not to be available for this large sized round black pearl necklace at this quality & price anywhere else.
Create Unique Round Pearl Jewelry by yourself
You can also buy round pearl beads or strands with pearl clasps to make your own jewelry. We have all sized strands of round pearls strands in stock: from 1-2mm, 2-3mm and 4-5mm, 5-6mm, 6-7mm, 7-8mm, 8-9mm or 9-10mm, 10-11mm, 11-12mm or 12-13mm even 15mm on loose temporary strands in all colors. For a limited time, grey colored round pearl strands are also available for immediate delivery.
Get pearl clasps at low wholesale cost without any additional shipping cost

A wide range of pearl clasps are available for you to choose for making your own pearl necklaces. They are either in 14k gold or 925 sterling silver. Buy the pearl clasps on line here.
See what our customers say good things about us from our competitors.