Cultured Pearls and Beads Direct from Wholesaler
Freshwater pearls and pearl jewelry
What OrientalPearls.net has that the competition doesn't?
You can look great in a pearl jewelry set for less than you ever imagined!
Do you enjoy creating your own jewelry with freshwater pearls? We have a huge variety of loose individual pearls, and pearl strands in stock. We have pearls in all sizes from 1.2mm to 14mm, in all grades, featuring dozens of shapes from round pearls to rice pearls, button pearls to potato pearls, and coin pearls to keshi pearls. You will always find something to suit you.
We have been serving the globe for years, providing top graded pearls and custom made pearl jewelry at wholesale prices – and we have our own pearl farms and in house manufacturing plant to back us up!
Check out what we have in loose and individual pearls and/or pearls on loose, temporary strands.
Our pearl beads are of so much higher quality for the same price as our competitors, they are in high demand from bridal shops who use them to create stunning gowns, gloves and veils!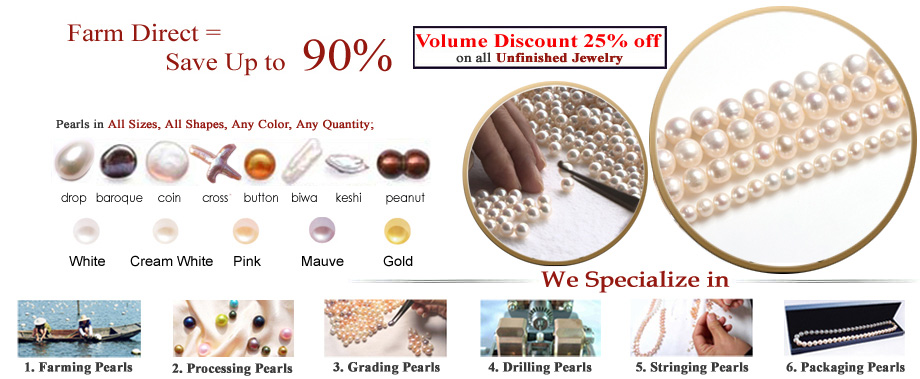 Pearl Settings in 925 Sterling Silver or 14K/18K gold at the lowest wholesale prices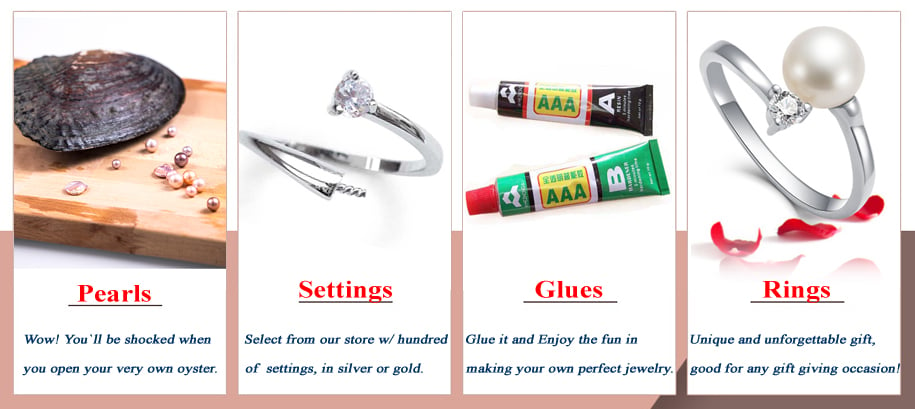 All of our jewelry is made with real pearls harvested from oysters on our family owned pearl farms in China. They are priced as low as under $30 for a round pearl set or matching pearl jewelry set, and are perfect for wedding jewelry.
Even if you do not buy pearls in bulk to receive the additional discounts, you are already paying lower prices for freshwater pearls than what most jewelry store owners pay! Just take a look at our wholesale priced pearl jewelry. There is no minimum quantity required to place your order on line, meaning you get the highest quality pearl jewelry at the same price the huge wholesalers pay.
Best of all, since we are your one-stop wholesale pearl shop, you pay only a flat rate for shipping as low $4.99 per order! It is so cheap that our clients who live in San Diego would rather have their items sent to them than to pick them up directly at our office.

Match the best price on pearls with the best price on shipping and you have an unbeatable combination.
Need a unique gift for that special someone? Besides wishing pearls or donghui pearl gift sets with a pearl necklace gift kit, we also have pearls in live oysters or in cans.
The oyster is sealed in a can to allow you to create your own custom pearl jewelry at any time from the natural colored pink pearl inside the oyster!
This item makes a great party favor or a gift for someone you love. You just open the oyster, remove the pearl, and then place it in a sterling silver cage or any of the other silver settings we carry. Customers love this item so much we have to scramble to keep up with demand for our "pearl in a can".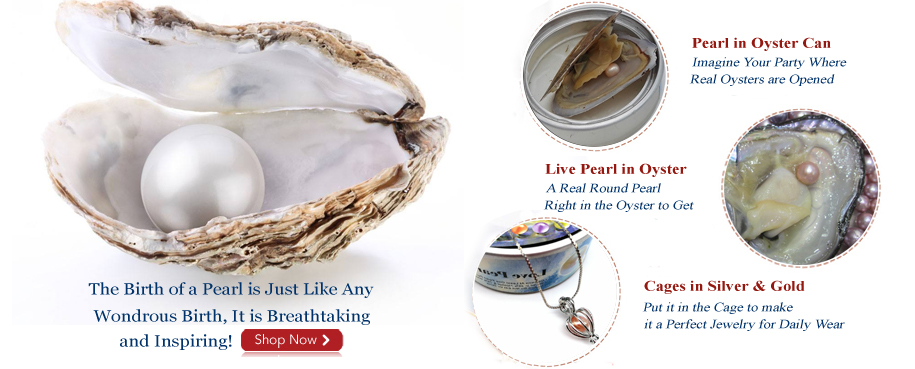 Freshwater Pearl Jewelry – The Perfect Gift
Pearls were once a rare commodity only worn by the rich and famous. Now they are now affordable for anyone! We are pleased that we have become the leading international, best-priced supplier for freshwater pearl jewelry. How do we do that? Check out more about us.
Besides its aesthetic appeal, pearl jewelry is also reputed to have medicinal properties. In China, some women use pearl powder to keep their skin smooth. Find out more about pearls.
Not only will you get the lowest wholesale priced freshwater pearls at Oriental Pearls.net, but you will also have the widest pearl jewelry selection to choose from – and every piece can be customized just for you.