Baroque Pearls – Direct from Pearl Farms @ Low Wholesale! Any Colors & Drilled Larger Holes

We
wholesale baroque pearls and pearl strands
from
3mm
all the way
to 25mm and 35mm,
in
all colors
,
directly from our own pearl farms
! That is why you
are guaranteed
to get any kind of baroque pearls and jewelry at the
lowest wholesale prices
,
how?
Nugget/Baroque Pearls strands in all colors and sizes, drilled in any size of holes You like. Check out all of our baroque pearls on loose strands now
Also called nugget pearls, baroque pearls are natural free shaped pearls. People love them for being unique and different.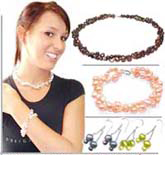 If you are looking for finished nugget/baroque pearl jewelry as a gift, this baroque pearl matching set set of 3 should work nicely as it costs little with 6 different colors for you to choose,from white, black, pink, green, mauve to chocolate or brown colored pearls.
Below are samples of our baroque pearls jewelry and loose baroque pearl strands from 3mm all the way to 35mm or larger in stock. Since baroque pearls come with various quality gradings, please read carefully for their grades, as we have a wide range of jewelry designers, from those who prefer to have more rough surfaced pearls for that rugged individual natural look,to those who would like to have more smooth surfaced with uniform shapes. Although we have 90 day money back guarantee, still we do not want you to be disappointed if the wrong grade was chosen. If you would like to have baroque pearls to be made with specific hole sizes, we can drill them to any sized holes you want as well.
Here are just some samples of Baroque pearls Jewelry in stock and also Baroque Pearl Strands on Loose Strings in sizes 3mm to 35mm:
Get pearl clasps at low wholesale cost

without any additional shipping cost

A wide range of pearl clasps are available for you to choose for making your own pearl necklaces. They are either in 14k gold or 925 sterling silver. Buy the pearl clasps on line here


We can drill pearls at any hole size you want. From 0.9mm, 1.7mm or 2.3mm or even larger.Buy loose pearls including seed pearls undrilled or half-drilled here