Pearl Necklaces – The Classical and The Unique with pearls Direct from Manufacturer in Any Color!. Stop Paying for Middlemen's Profits!
The wonderful thing about pearls is their versatility. Traditional styles of pearl necklaces usually involve single or multiple strands, with a clasp at the back of the neck. The opportunity for variety is endless – the length of the strands, the color, size and shape of the pearls, even the stringing and knotting technique can reflect your singular personality!
Pearl necklaces, so many choices that we had to divide them into:
1)"Classical Necklace", for those made of the traditional round pearls in single or multi-strands; with price as low as under $25, and
2)"Unique Pearl Necklace" for everything else from coin pearls to baroque pearls, from floating style to add-a-pearl to tin cup etc., with price as low as under $15, choice is endless…
Pearl necklaces run the gamut from a single pearl drop pendant on a simple chain to twisted ropes of pearls in different colors and shapes. You can string pearls on almost invisible wire to create a floating effect, or mix them with beads or polished stones to create your own special look.
Any Colored Pearl Necklace
Black pearls, white pearls, pink pearls, champagne pearls, brown pearls, blue pearls, chocolate pearls, green pearls or red pearls, we have all these popular colors in stock, find them all here:
Chocolate pearls are hot right now, find all of the chocolate or brown pearl jewelry here.
Black or Peacock colored pearls always in demand. Find out what we have for black pearls jewelry here.
White pearls are suitable for anybody, and any occasion. Find all kinds of white pearl jewelry here.
Pink pearls are great gifts for any women, from a young girl to an elderly co-worker. Find your dreamy pink pearl jewelry here.
Blue pearls are for that special lady who have already got everything in her jewelry box. Take a look at what we got for all blue colored pearl jewelry here.
Champagne pearls or gray colored pearls are always in style. Find all champagne pearls or gray pearl jewelry here.
Green pearls for the shy and quiet type youngest. You deserve to have at least a few pieces of this authentic pearl jewelry for yourself. Find green pearl jewelry here.
Cranberry pearls are versatile stones that can fit into any atmosphere, any event and make any type of statement that the wearer chooses. Find cranberry pearl jewelry here.
Round Pearl Necklace
This alluring necklace will surely make a lasting impression! These shimmering high 6-7m AA+ quality genuine freshwater pearls shine with amazing luster. They are all well matched with a very round shape and without any visible surface markings.
Take a look at this 6-7mm AA+ high quality Round Pearl Necklace in 925 sterling silver or check out Classical necklaces for more selections.
A simple single strand of black necklace made of freshwater pearls brings a demure tone to a casual polo and jeans. Whether you are enjoying the big city nightlife, a simple open bar on the beach or a boot stomping western style club, don`t forget you can always look your best in real pearl jewelry!
Take a look at this 6-7mm black round pearl necklace in 14k gold or check out Classical necklaces for more selections.
Drop Pearl Necklace
Drop pearl necklaces are great for mixing and matching over a simple tee-shirt and jeans. Inexpensive enough to make even long strands affordable, drop pearls can be alternated in color to make a rainbow necklace that is sure to grab attention, or you can keep it simple with a soft strand of oval pearls in a neutral shade.
Take a look at this 7-8mm AAA Drop Pearl Necklace in 925 sterling silver or check out unique necklaces for more selections.
This lariat and adjustable necklace is beautiful for all ensembles but will go exceptionally well with formal and semi-formal attire. Add a mauve pearl lariat necklace to your white or lighter colored cocktail dress with pearls in the front for that exquisite look.
Take a look at this 7-8mm AAA Drop Pearl sterling silver Necklace in heart design or check out pearl pendant category for more selections.
Pearl Collar Necklace
Button pearl necklaces are a gorgeous way to display larger more unique pearls. When set on a simple gold or silver spacer, the pearls glint from your collarbone and can make your nightclub attire simply ravishing.
Take a look at this Pincess Diane`s Striking 4 Rows of 5-6mm Pearl Collar Necklace or check out unique pearl necklaces for more selections.
Baroque Pearl Necklace
Baroque pearl necklaces are the perfect choice for those casual situations when you want to dress up but fear overdoing it. The different options when it comes to color and size mean you are guaranteed to have the perfect necklace to match your outfit. Wear them for that important job interview or a fun first date!
Take a look at this Double Strand 9-11mm Large Black Pearl Necklace or check out unique pearl necklaces for more selections.
Coin Pearl Necklace
A flat coin pearl necklace can be used to glam up the little black dress or add a touch of discreet richness to a blazer and jeans. The glossy coin pearls can bring a shimmer of light to your spring and summer wardrobe, or tone strong colors down for the holidays.
Take a look at this Simple coin pearl necklace or check out unique pearl necklaces for more selections.
Southsea Shell Pearls Necklace
South sea shell pearl necklaces, also called majorca pearl necklaces, are perfect for those times you want to look your best, but fear for your more expensive pieces. Summer at the beach will have you decked out in your finest with these majorca pearls that no-one will be able to distinguish from comparable Tahitian strands worth thousands of dollars!
Take a look at this tiny Seed pearls and 10mm southsea shell pearls necklace or check out unique pearl necklaces for more selections.
Gem Qality Pearl Necklace
Classical pearl necklaces are the favorite of brides and bridesmaids, queens and princesses, little girls and grandmothers alike! A simple strand or choker can make a prom dress sparkle or a flower girl shine! They can be color matched to your wardrobe for work or play, and are appropriate for almost any occasion.
Take a look at this 9-9.5mm AAA gem quality round pearl necklace in 14k gold or check out classical necklaces for more selections.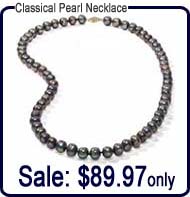 Monthly Special: – 8-9mm Genuine Pearl Necklace
A classic strand of pearls that makes a perfect anniversary gift or bridal accessory. The price is as low as $89.97. This necklace is composed of 8-9mm freshwater pearls and is perfect for that first strand of pearls. The AA quality pearls are near-round, with a lovely luster and satin-like shine. These freshwater pearls have a natural bodycolor, and warm overtones sure to compliment any woman wearing them. Each pearl is individually knotted on twin silk and finished with a clasp of solid 14 karat gold.
Whether you go for a traditional choker or a dreamy floating necklace, adding pearls to your jewelry box is a smart move. They truly are the most versatile and beautiful way to accent your wardrobe.
.
Custom made for free
Don`t see the red or blue color that you want? Or the 14k yellow or white gold clasps that you prefer?

Get them customized to your own specification, with our own in house manufacturer. It comes with a 6-month free warranty. And all it takes is an additional few days. Please email us at support@orientalpearls.net, we can make any kind necklace in any color, at any length to meet your specific requirements.