Tiny Seed Pearls – All Color, Shape, Sizes & Any Quantity
1mm or 1.2mm or 1.3mm…or 2.5mm –  Any Sized
Small, Tiny Seed Pearls – Wholesaler Direct @ Any Quantity
We have tiny seed pearls in any size, at Any Quantity, (yes we have jewelry watch makers buying more than 10,000 pieces) for your vintage or victorian jewelry making or repairing, as well as seed pearl jewelry.
In addition, we also have these small pearls in all shapes, either undrilled pearls to set in for rings or pendants, or fully drilled on a loose strand from 1-2mm, 2-3mm, 3-4mm, 4-5mm, 5-6mm etc.. We have a wide selection of rice pearls, round pearls, button pearls and other shapes in small sizes that we have in stock for immediate purchase, as well as for wholesale orders with huge quantities.
Seed pearls and seed pearl jewelry in all shapes & colors
Loose Seed Pearls
We have fully or double drilled seed pearls on loose temporary strands ready to ship in white, pink, mauve and black colored seed pearls readily available for making your pearl necklace s and pearl bracelets. However, we also have undrilled and half-drilled pearls from 1mm to 13mm ready for making your pearl jewelry such as victorian pearl rings or a vintage pearl pendant as well.
Seed Pearls in Round Shape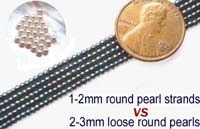 We have many tiny round shaped seed pearls. These are considered very rare, especially the loose AAA graded quality ones, which have near perfect roundness.
Individual pearls are much more stringently scrutinized for things like roundness and a clean surface than those on strands. So while you do pay more for individual pearls versus those sold by the strand you can see the quality difference very apparently when you compare them.
We have white, pink, mauve and black colors ready to for immediate delivery. We have a range of sizes in 1-3mm ready individually or on loose strands just waiting to be put in your next dazzling piece of jewelry.
Buy fully drilled 2-3mm small round pearls on a loose strand or loose individual pearls here.
Small Button Pearls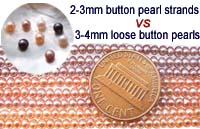 These pearls are shaped like a button, with a flat back and round front, or a general dome-like shape. Sold individually these pearls are perfect for earrings, rings and pendants where you want that round shape but without the cost that comes with completely round pearls. On a strand they`re perfect for contrasting larger pearls as a spacer and they're excellent for making low cost, high quality children`s jewelry.
Buy fully drilled 3-4mm small button pearls on a loose strand or loose individual pearls here.
Oval or Rice Shaped Seed Pearls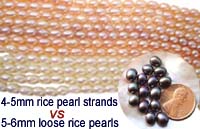 These pearls have a nice rounded oval-like shape and always come with an amazing luster.
We've got plenty of tiny oval, or rice shaped strands and loose pearls readily available for immediate delivery.
Buy undrilled drop pearls or pearls on a loose strand here.
These are pictures of actual strands. Pennies are used to give a proper sense of scale to the images.
Have your seed pearl jewelry custom made to be truly unique
Yes it's true that you can custom make your own jewelry with one-of-a-kind design you`ve got floating around in your head. Our tiny seed pearls are a great way to contrast larger pearls and can create a unique look not found anywhere else. You can also have your seed pearls made in any color you want. The only limit is your imagination.

Great for the holidays, an anniversary, or even for custom jewelry, seed pearls are great for stringing in festive patterns that will make your special moment that much more memorable. With our pearls, and your imagination the jewelry possibilities are endless.
If you need seed pearls with very small differences in sizes, such as seed pearls from 1.2-1.3mm, or 1.4-1.5mm or 1.6-1.7mm pearls available, we can also get them as special orders. Email us at support@orientalpearls.net.
See what our customers say good things about us from our competitors.