Making High End Pearls Jewelry @ Wholesale
The beauty and elegance of pearls have captured the hearts of jewelry enthusiasts for centuries. While pearls are often associated with luxury and high-end jewelry, it's now possible to create your own high-end pearl jewelry using real pearls directly from pearl farms at wholesale prices.
Thanks to advancements in technology and globalization, it's now easier than ever to purchase pearls online directly from pearl farms. By purchasing pearls directly online from OrientalPearls.net, you can avoid the markup that often comes with buying pearls from traditional retail stores. This means that you can get a much better deal on high-quality pearls, whether you're looking for single loose pearls, pearl strands, or other jewelry findings.
Single Pearl, Pearl Strands & Jewelry Findings, Pearl Earrings, Pendant, Ring Settings & DIY Tools
Glue, Needles… Whatever You Need for making your own Jewelry
In addition to purchasing pearls at wholesale prices, you can also find other tools and materials needed to make your own high-end pearl jewelry. This includes jewelry glue, thread, needles, clasps, and other findings that can be used to create your own unique designs.
One of the great benefits of making your own pearl jewelry is that you have complete control over the design and quality of the final product. You can mix and match different pearl colors, sizes, and shapes to create a truly unique piece that reflects your personal style and taste.
Other semi-gemstones and beads, from jade to genuine coral beads to turquoise beads to mother-of-pearls.
Pearl jewelry making DIY tools – You can buy directly online from us for glue, thread, etc. If you need other jewelry making tools and supplies from pliers, to drilling machines, we can also custom order them direct from our manufacturers at a guaranteed low cost.
Find everything for your jewelry making needs here:
Whether you're a professional jeweler or a beginner, there are many resources available to help you get started in making your own pearl jewelry. When it comes to pearls, it does not matter what kind of pearls you are looking for, be it round pearl, button pearl, rice pearl, potato pearl, nugget pearl, keshi pearl, coin pearl, southsea shell pearls or even jade or other beads that you use to mix with pearl jewelry. We have them all!
Purchasing real pearls directly from pearl farms at wholesale prices and making your own high-end pearl jewelry is a great way to get more value for your money while creating unique and personalized pieces. With the right tools and resources, anyone can become a master at making their own pearl jewelry and enjoy the timeless beauty of pearls for years to come.
Pearl Settings For Jewelry Making
We have a huge variety of pearl settings for jewelry making needs. If you would like any pearl jewelry settings in our store to be made in a different material, such as plated yellow gold over silver, we can make it. Just email us the product numbers with your special request.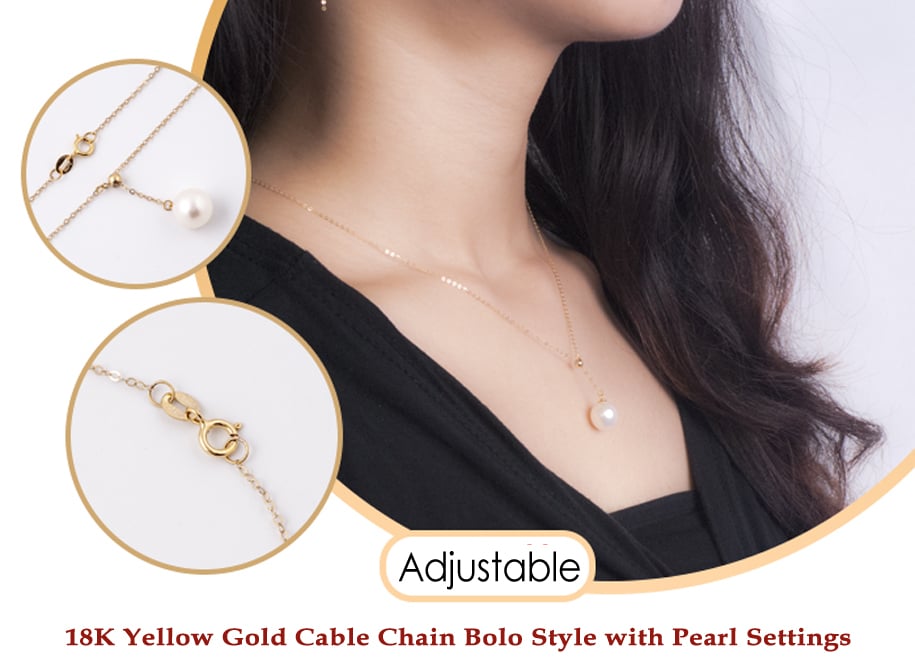 14k Gold or 925 Sterling Silver Findings for Pearls and Loose Temporary Strands to Make your Jewelry
There is no minimum order or quantity limit for these pearl strands, just straightforward low prices. You can either get them from our existing stock below for immediate delivery, or if you have a special item, you can have your pearls directly shipped out from our pearl farms in China. You can get any naturally colored pearls at any time for your jewelry making needs!
Loose Pearl Strands and Pearl Jewelry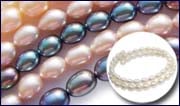 Rice or Oval Shaped Pearls, from 1mm all the way to 15mm in 20+ colors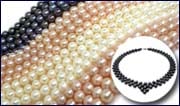 Round Pearls on Temporary Strands From 1mm to 15mm in nature colors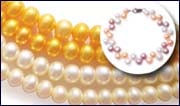 Button or Flat Pearls, From 1mm seed pearls all the way to 17mm in 4 colors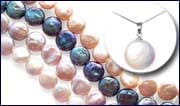 Coin Pearls in Square, Round or Rectangular Shapes, Center Drilled or Side Drilled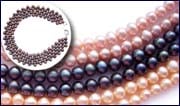 Potato or Semi-Round Pearls on Temporary Strands from 3mm with 30+ Colors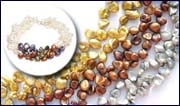 Cornflake or Keshi Pearls from Baby Keshi to Large & Rare sizes on Temporary Strands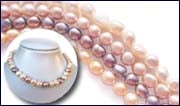 Nugget or Baroque Shaped Pearls From 3mm to 35mm or even 40mm Huge Pearls in 20+ colors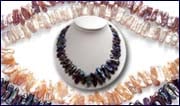 Long Stick or Biwa Loose Pearls on temporary strands, Center Drilled or Cross Drilled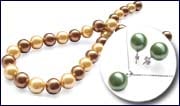 Southsea shell beads in all sizes and colors for you to make your stunning piece of jewelry that rivals real south sea pearls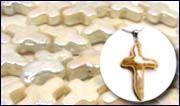 Cross or Crucifix Shaped Pearls, top drilled, length drilled or diagonally drilled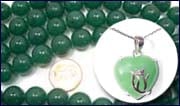 Real Jade Beads from 4mm to 16mm in Round or Oval or rice Shape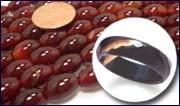 Natural Agate Beads from 4mm to 12mm in Round or Dropped Shapes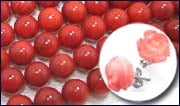 High Quality Natural Coral Beads, from round, tube, drum to rice shapes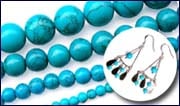 Enhanced Chinese Turquoise Round Beads from 6mm to 12mm Round Beads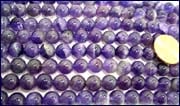 Crystal Beads on Temporary Strands from 4mm to 10mm in Clear and Purple Colors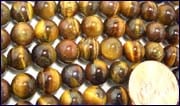 Genuine Tigers Eye Beads on Temporary Strands from 4mm to 20mm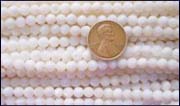 Mother of Pearl Beads in all sizes and colors for you to make your natural jewelry
Customized Order – Be Unique and Different

We can use any of these pearls to custom design pearl jewelry according to your preferred beads size, colors, and length. Our pearl farms produce all kinds of pearls. And our workers make pearl jewelry for jewelers and store owners all over the world, which means we receive the lowest wholesale cost on everything for making pearl jewelry, from needles and threads to all kinds of tools. You just need to send us an email of your specific requirements and we can do it all for you.
Business Promotion – We can help you more…
When you want to promote your business, you want to achieve the most effective results with the most inexpensive means but the highest perceived value. We can help to achieve your goal by using pearls as gifts for your employees, your seminar attendees, or your patrons. All you need to do is to give us your budget, and your preferred design or whatever you have in mind. We will work with you by providing you with a free sample and timely delivery.